A Bobcat Came To Visit Us December, 2017!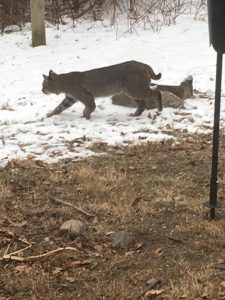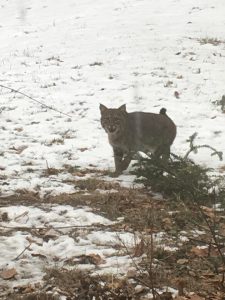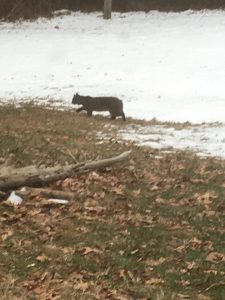 Sighted by the bird feeders behind the large classroom.
This bobcat appears to have an old, healed injury on its right, front leg. We think it was "stalking" our bird feeders for some easy prey. A few days after these photos, some bobcat scat was found on our pond boardwalk along with some mourning dove feathers!
This sort of sighting is very unusual, as bobcats tend to avoid areas of human habitation. In fact, the last several sightings–and very blurry photos–of this bobcat were over by the pond, as it was running away from the hiker who was desperately trying to get a photo of it!
Want to see your Ansonia Nature Center photos here? Send us your photos with a brief description of where and when you took them to: ansnaturectr@ansoniact.org. We will post your photos and credit them to you.