Ansonia Nature and Recreation Center
Mission Statement
Our mission is to foster environmental stewardship that will connect our communities to the natural world of the Lower Naugatuck River Valley, and balance the demand for recreation with the need for conservation
History
The Ansonia Nature and Recreation Center is a town owned and operated park located in Ansonia, Connecticut.
Once a small family-owned dairy farm, the park is laced with two and one-half miles of nature trails. The land encompasses almost 150 acres of wooded hills and grassy fields bisected by streams, a two acre pond, wet meadows, and an upland swamp.  The site is a wonderful microcosm of a typical Connecticut landscape which provides sanctuary to many species of New England flora and fauna (Download our  Trail Map here).    A portion of the park has been dedicated to recreational fields including soccer, baseball, and softball, as well as several acres reserved for community gardening and a large playscape for younger children.
Visitor Center

The Ansonia Nature & Recreation Visitor Center  houses several exhibits, provides space for our animal ambassadors.  The unique visitor center, also know as the Schumacher Pavilion, was constructed in 1977 from Connecticut stone and glass is also the hub of the park with classrooms, a nature store, a small natural history library and office space.
Use of this facility is free and open to the general public year round from sun up to sun down.
Building hours vary with the season. Office hours are from 9 to 5 daily with the exception of major holidays.
Come meet our resident animals!
Most of the animals exhibited at the Nature Center are here because they are unable to survive in the wild. Some are domesticated animals that were surrendered by their previous owners, others are injured wild animals that are now unable to hunt or escape from predators. The ANRC views these animals as ambassadors of their species and displays them in settings so visitors can appreciate their beauty, observe their behavior, and better understand their lives.
Our Animal Ambassadors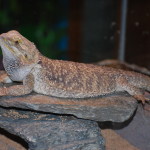 Blaze, our Bearded Dragon, came to us from the Connecticut Beardsley Zoo. A donor had brought Blaze to the Beardsely Zoo because they could no longer care for him. At the time, we had been looking for a bearded dragon, so we gladly took him in! Blaze is part of our weekly Creature Feature and eagerly comes out every Saturday at noon to be petted by visitors to the Nature Center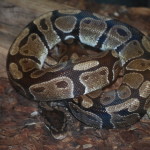 E.T., our Ball Python, was found slithering down the halls of the Ansonia Middle School. These snakes–native to the savannas and grasslands of Africa–have become popular pets due to their docile temperament. Many people do not know that these snakes can live up to 30 years and often end up offering them up for adoption after having them for only a few years. E.T. is a huge part of our Animal Ambassador program and frequently travels with us to events! He's the chillest animal here, at the Nature Center!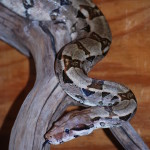 Babe is a red-tail boa. She came to us as a one-year-old snake-ling and has been with us for over 20 years! Red-tail boas need a fairly large enclosure to stay healthy. Her current enclosure is several FEET wide, tall, and DEEP! Topping out at over six feet, these animals need a lot of space! And let's not forget their appetite! A full grown red-tail boa can eat one full grown rabbit a month! Red-tail boas all too often go up for re-adoption. We are glad to provide this lovely, well-mannered snake with a forever home.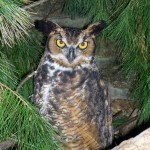 Mary, our Great Horned Owl (aka: GHO), came to us after having a rather unfortunate encounter with a barbed wire fence. One of her wings was shattered beyond mending and had to be amputated. While Mary escaped all of this with her life, having only one wing, she is non-releasable and is a permanent resident here, at the Ansonia Nature Center, and has been here for over 15 years! You can view her outdoor enclosure through a large glass window inside the Nature Center.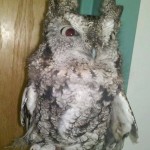 Sassafras, Grey-phased Screech Owl, came to us from Jones Tree Farm with a broken leg. While she seems undamaged, Sassy's didn't fully heal from all of her injuries. Being a Screech Owl, she loves to sleep in cavities. When she goes to fly into her nesting box, she sometimes misses the opening. We think that her depth perception is off–a result of head trauma she might have gotten when she broke her leg. In addition to this, she cannot fly higher than 6 or 7 feet–her wings simply cannot give her the lift to get any higher. Lucky for Sassy, she has adapted to life in captivity quite well! This little owl often falls asleep while we are putting on her jesses and have her up on the glove. Sassy has gone to many schools to teach children about the Screech Owls that live out in our woods, here in Connecticut.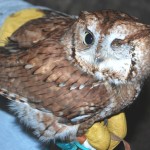 Red, Sassy's counterpart, is a Red-Phased Screech Owl. He was found standing on a street curb, exhausted, with his left eye closed. His encounter with a car left him blind in that eye. A one-eyed owl wouldn't last long in the wild–not only would it be very difficult for him to hunt, he'd quickly fall prey to other predators. Red's permanent home is here, at the Nature Center, where he shares an enclosure with Sassy. Even though we have a nesting box for each of them, we very often find them huddled together, asleep.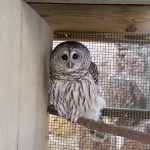 Barred owls are one of the most common owls in CT. In the woods surrounding the Nature Center, we frequently hear them hooting. Our staff have even sighted these owls in the early morning hours! Before being brought to us by Countryside Veterinary Hospital, Sebastian had received serious head trauma and a massive break in his left wing from a collision with a car. His wing could not be saved, so this lovely, one-winged barred owl's permanent home is here, at the Nature Center. He lives on a healthy died of 3 frozen-thawed mice nightly, fed to him in his pine bough filled enclosure.  Sebby is a bit shy, so he doesn't come out for a lot of programs, but when he does, his majestic presence is seldom forgotten.
Our other Animal Ambassadors
The Ansonia Nature Center is also home to Chuckles (a ring neck dove), Cutie (a guinea pig), Pepper (a domesticated rabbit), a red eared slider turtle, a water snake, several hundred honey bees, salt water tide pool creatures, a couple dozen crayfish, at least a half dozen walking sticks, three box turtles, a gecko, and a tarantula.
Want to meet some of our animal ambassadors up close and personal? Come to our Creature Features, every Saturday at noon. It's then that we take out all of our tame animals to be petted and held!
Check out our Nature Store!
Looking for the perfect gift for your hiking or birding buddy? Have a child in your life that loves nature as much as you do? Check out our Nature Store! We have gifts for children of all ages. All of the profits from our store go towards the care of our animals!
Come stop by and take a look!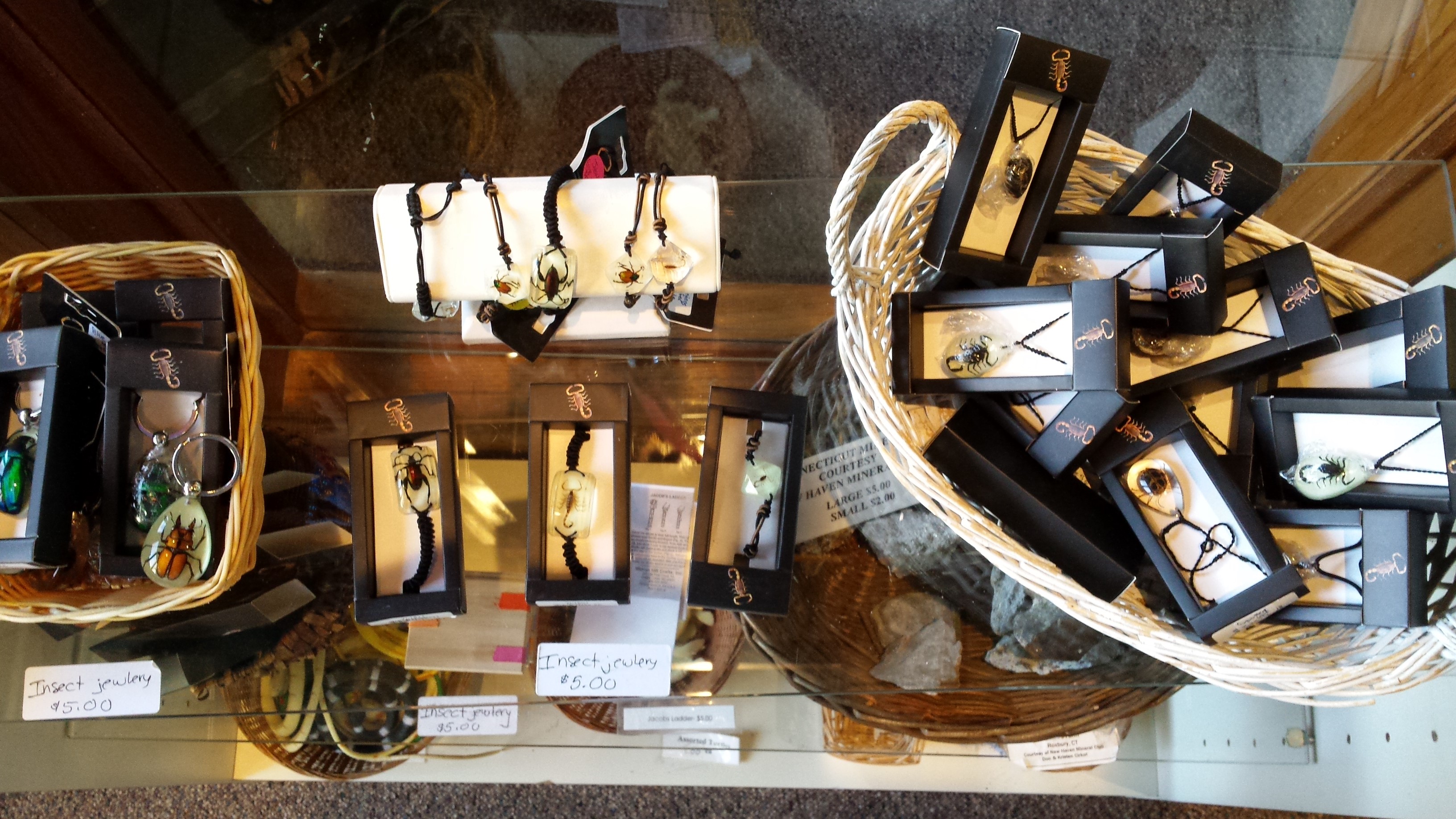 Rent A Picnic Pavilion
Picnic pavilions can be rented by organizations or by individuals looking to host their own event, such as a birthday party or family reunion.
There are two picnic pavilions available for rent at the Ansonia Nature Center,
Pavilion #1 has a central fire pit with a grill top that can be used for cooking. There are playing fields across from the pavilion that can be requested for use if they are not booked for an athletic event.
Pavilion #2 is located behind Red Wing Pond House Preschool. It does not have a grilling area, but does have a fireplace. This pavilion is smaller and cannot comfortably hold as many people as Pavilion #1.
Fires are allowed in the fire pit and in the fireplace in both pavilions. Those booking the pavilion are responsible for bringing their own firewood. Firewood is not available for purchase on-site.
Pavilion Rental Guidelines (excerpt from "Rules and Regulations")
A. Children; Parents and/or guardians, shall be solely responsible at all time for those in their care.
B. Fees: The rental fee for non-residents is $125.00 and a clean up deposit of $200.00 is due and payable upon reservation approval. It is the responsibility of the applicant to retrieve the deposit fee.
C. Insurance: Groups must certify that a personal and property liability insurance policy of not less than $500,000 will be in effect on the day of the event unless waived by the mayor. This policy is to be delivered to the Ansonia Nature Center Director at least one week prior to the event.
D. Recycling: Containers are provided for all recyclable material (paper, metal, glass, plastics) and is encouraged by the City of Ansonia
E. Signs: Any posted directional signs advertising the event are to be removed at the conclusion of the event.
F. Police: The Ansonia Police Department has the final authority to enforce all rule and regulations of the park
G. Damages: Replacement costs for all damaged park property will be paid by the applicant.
H. Event Chairman: It is the responsibility of the event chairman to be sure all facilities and park areas are left in a clean condition and tables and benches returned to place.
I. Parking: One vehicle (registered to the applicant) is allowed to park at the pavilion; all others must be left in the main parking lot. A vendor or caterer's vehicle shall be allowed access to the picnic pavilion provided written notice is submitted within 24 hours and the applicant has received prior approval from the park director or their designee.
J. Fields: The use of the ball fields must be approved by the Ansonia Nature Center Director in conjunction with the Ansonia Recreation Director or the Ansonia Recreation Commission.
K. No mobile inflatable such as "moonwalks" are allowed in the park. Revised Sept. 2012
To rent a picnic pavilion, FILL OUT THIS FORM, and bring it to the Ansonia Nature Center with a check for $200 for the deposit and a separate check for the rental fee $125 if you are NOT a resident of Ansonia. Please bring an ID verifying that your are a resident. Your check for $200 will be returned to you once a ANRC staff member has walked the pavilion after your event and confirms that the grounds were as we had left them before the event had begun.
Please make sure you have read the full list of RULES AND REGULATIONS before booking a pavilion. Pavilions are booked first-come-first serve. Feel free to call us at 203-736-1053 to see if the date you are looking for is available.
Book your birthday party at the Ansonia Nature Center!
Take your pick of the following programs:
Awesome Amphibians (Spring/Summer only)
Mad for Mammals
Reptiles Rule
Bird Brains
Creepy Crawly (insects and spiders)
And pick your time:
Saturday   or     Sunday
10:00am -12:00pm     or     2:00pm – 4:00pm
For $150 for FANCI members or $175 for non-FANCI members (includes 1 year FANCI Family Membership), you get a 45 minute live animal presentation.
The total time your have at the center is 2 hours. 15 minute setup time by family, 45 minute educational live animal presentation by FANCI, 45 minute food and gift time by family, and 15 minute cleanup by family.
Those booking the party are responsible for their attendees at all times. The Ansonia Nature Center does not provide staffing to watch children.
Payment is due with registration.  Fee includes up to twelve (12) children.  Additional fee of $5.00 for each additional child.  There is no fee for accompanying adults but total party participants cannot exceed 24.
Download the birthday party registration form here!
What We Do
Nature-oriented classes are provided to school-age children on weekdays.
We also offer scout programs call to talk to an instructor
We offer evening and weekend programs for adults and their families.
Check our seasonal Calendar of Events for upcoming activities
 If you'd like to receive a free copy in the mail, just provide us with your name and address by calling 203-736-1053.