Calendar of Events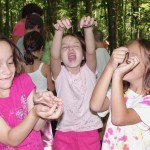 ***********************************************************************************
 AUGUST 2016
SEPTEMBER 2016
YOGA AND FITNESS – Begins Thurs. Sept. 1, 6:30 pm
Instructor Pamela Mellitz will lead her students through stretching and toning, balance and awareness. She'll also demonstrate the importance of just breathing correctly for better physical and mental health in these full 90-minute sessions. FEE: $7 per class. Please call Pam at 203-888-4124.
NATURE'S CHILD: Incredible Insects – Fri. Sept. 2, 10 am
Join naturalist Amie to discover the critters who live in our park's beautiful yellow flowers. You'll be amazed to find how many tiny creatures live on our goldenrod. TUITION:  $7 per child ($5.00 for family-level FANCI members and Ansonia residents).  Please pre-register for this class for preschoolers and their adults.
FALL TERM JUNIOR RANGERS – Registration begins Thurs. Sept. 8; class runs Thursdays, Sept. 15–Nov. 3, 3:30–5 pm.
Calling all kids 11 to 14 years old who love nature! Has your child wanted to work with animals, garden, help maintain our trails, and help with special events? This is the opportunity to help the Nature Center in our 8-week after-school program. Parental permission is required. Class size is limited; this class fills up fast!  FREE.
BACK TO BASICS:  Soap Making 101 – Sat. Sept. 10, 1:00 pm
This two-hour class will provide the basic skills you'll need to make wonderful soaps! Attendees will learn basic safety and traditional techniques required for this time-honored craft which makes great gifts – or soaps to keep for your own use. Soap samples and recipes will be provided. Bring a small container for your take-home samples. Instructor: Dawn Sotir. FEE: $10 per person.  Registration is required.
PET LOSS GRIEF SUPPORT GROUP – Sun. Sept. 11, 1 pm
Losing a beloved animal can be tragic and a very emotional time for humans. There are numerous resources to turn to for the loss of a human loved one; however, there are limited options for when we lose an animal. Susan Wilson has created this support group for those who have lost an animal or have one in the process of moving on. Join us for these FREE sessions
THEMED GUIDED HIKE: Goldenrod Jungle – Sun. Sept. 11, 1 pm
For all nature enthusiasts! Enjoy a walk through the park's fields and vast Goldenrod Jungle. You'll be amazed at the diversity of insects, spiders, and birds that depend on this unique habitat for survival. FREE guided hikes every Sunday at 1 pm.
FULL HARVEST MOON HIKE – Fri. Sept. 16, 7 pm
The northeastern native people referred to the full September moon as the "corn is edible" moon. Join our rangers to hike the Nature Center trails as the big moon rises. Enjoy some marshmallows over the campfire to conclude our program. Each child must be accompanied by an adult. Number of participants is limited, so pre-registration is required. FEE: $1.00 per person.
PLAYGROUND FAMILY FUN DAY – Sat. Sept. 17, 10 am
Let's get our community together and celebrate! We will start by restoring the grounds around our new playground. The original playground was built in 1991 by the community, and it would be great to keep up the tradition.  It is time to continue the legacy for another 25 years and ensure the playground's longevity for future generations.
AUTUMNAL EQUINOX DRUMMING CIRCLE – Fri. Sept. 23, 7 pm
Join our drumming circle with Ranger Dawn. For adults and children 12 years and older. Welcome and celebrate our most colorful season!  FREE, but bring a canned food item for our local homeless shelter. We'll gather at Pavilion #2. Please register.
BIRDS ON THE MOVE – Sat. Sept. 24, 9 am
Come for birding with Ranger Jessica for this fun, informative program. She will concentrate on the end-of-summer journeys taken by our "flying friends" to faraway places each year.  Find out who's going and who's staying put! FREE; please call to register.
Be sure to see the Friends' Focus for information on the Playground Fundraising!
***ONGOING PROGRAMS***
Sundays: Guided Hikes, 1 pm
Thursdays: Yoga for Your Health, 6:30 pm—call Pam, 203-888-4124
Saturdays: Creature Features, 12 noon
***THINGS TO COME (Fall 2016)***  
Autumn Fest
Fall Mushrooms
Bittersweet Wreath Workshop
Check back for updates!