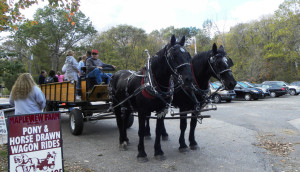 Please call to register for all programs.  Dates and times are subject to change.
Parties and organizational groups of more than 15 people visiting the park must call the Ansonia Nature Center (203 736-1053) and talk with a staff member about space availability and are required to rent the picnic pavilion for $125 including a $200 returnable clean up deposit
**************************************************************
NOVEMBER 2017
FULL BEAVER MOON HIKE – Sat. Nov. 4, 6:30 pm
This was the time to set beaver traps before the swamps froze, to ensure a supply of warm winter furs. Another interpretation suggests that the name Full Beaver Moon comes from the fact that the beavers are now actively preparing for winter. It is sometimes also referred to as the Frosty Moon. Join the Nature Center guides as we lead you around our park by the light of the moon. For all ages (children must be accompanied by an adult). Wear comfortable shoes for uneven terrain. FEE: $1.00. Please call to register.
THIS PROGRAM IS CANCELED,,,,,,,FIELD TRIP: Rowanwood Farm – Sun. Nov. 5, meet at farm 1:45 pm; farm tour starts 2 pm
During our visit, participants learn firsthand about the animals that live on Rowanwood Farm. Everyone has an opportunity to interact up close and personal with these amazing creatures. At the same time, we share the animals' history, characteristics and care. Topics include where llamas come from, how they are sheared, what they eat, and many other interesting particulars that participants learn about our animals. FEE: $10 per person; must prepay by Nov. 1. We will meet at the farm in Newtown at 1:45; go to www.rowanwoodfarm.com for directions.
BACK TO BASICS: Soap Making – Sat. Nov. 11, 1 pm
This two-hour class will provide the basic skills you'll need to make wonderful soaps! Attendees will learn basic safety and traditional techniques required for this time-honored craft which makes great gifts—or soaps to keep for your own use. Soap samples and recipes will be provided. Bring a small container for your take-home samples. Instructor: Dawn Sotir. FEE: $10 per person.  Please call to register.
SUNDAY GUIDED HIKE:  Woodlore – Sun. Nov. 12, 1 pm
Join Ranger Jess to learn how to identify trees by their bark and branches. Hear stories of how people have used wood over the years for many different things. Discover how magical trees really are!  FREE. Please call to register.
TWO COYOTES WILDERNESS SCHOOL: Nature Connection – Sat. Nov. 18, 1 pm
Join Two Coyotes Wilderness School naturalist Karianna Rosenberg and embark on nature connection games where you will become the cougar, the tracker and the tracked!  Hone in on your awareness and stealth as we lead games for all ages outside in the crisp fall air.  Karianna has a deep respect for nature and a passion to help others discover their personal connection to the Earth.  Great program for families and scout groups.  FEE: $5 per person. Please call to register.
SUNDAY GUIDED HIKE: History Hike: How These Trails Came to Be – Sun. Nov. 19, 1 pm
Learn from Ranger Dan how ancient people utilized their tracking skills and followed animal signs. Gain a long list perspective on who created the trails we walk and the roads we drive today. FREE. Please call to register.
DECEMBER 2017
WINTER WREATH WORKSHOP – Sat. Dec. 2, 10 am
Celebrate winter and the festive season as you create a wreath from fresh locally grown greens, then decorate your masterpiece with natural trimmings. Enjoy some warm mulled cider and a cookie too! Wreath frames and wire will be provided. Please bring your own hand clippers.. MATERIALS FEE: $15. Please call to register.
PRINCIPLES OF FIRECRAFT – Sat. Dec. 9, 1 pm
Basic firecraft principles are very important to know. Whether or not you're the family camp-out fire starter, knowing how fire works is paramount to safety. Join Ranger Dan in learning about wood-gathering, fire safety, and fire starting with only one match! Children must be accompanied by an adult. Dress for the outdoors. FREE. Please call to register.
CROCHET 101 – Sun. Dec. 10, 2 pm
Join Ranger Jess to learn the skill of crochet. She will teach you the basics so you can create a snowman. It's a great time of the year to create unique gifts for family and friends! MATERIALS FEE: $7. Please call to register.
118TH ANNUAL CHRISTMAS BIRD COUNT – Sat. Dec. 16, 12:30 pm
This annual survey provides important data to assess the increase or decline of avian populations worldwide. After an early morning start, the New Haven Bird Club will stop at the Nature Center for their lunch at 12:30. Be ready to join members of the club to look and listen along the park's trails. For adults only. FREE. Please call to register.
JANUARY 2018
NEW YEAR'S DAY HIKE – Mon. Jan 1, 2018, 10 am
Bring a healthy start to your new year at the Nature Center. Our ranger will conduct this brisk walk while you learn a little natural history trivia along the way. FREE. Please call to register.  Inclement weather cancels.
*********************************************************
***ONGOING PROGRAMS***  
Sunday Guided Hikes – Sundays, 1 pm
Join a Nature Center guide on Sunday afternoons for fun, exercise, and learning about our trails! See the above listings for hikes with a specific theme.
Monday Night Trail Run – Mondays, 5:30-6:30 pm
For all the runners who want something out of the ordinary! Ranger Dan will lead you through our 156-acre network of trails, while you burn off the weekend's extra calories. This FREE program is the best way to start off your week.  Please register and wear appropriate footwear.
Karate Club – Tuesdays, 5–5:45 pm (Karate Kids); 5:45–6:15 pm (Little Dragons).
This after-school program at the Nature Center is for children 6-12 years old (Karate Kids), and 3-5 years old (Little Dragons). Students will engage in martial arts techniques and activities while learning skills such as discipline, focus, self-control, and confidence. They can earn higher-ranking belts as their participation continues. TUITION per 5-week session: $45 for Karate Kids, $40 for Little Dragons (cash or check payable to AMAA), which includes a Karate Club T-shirt and white belt. For more information call Chief Instructor Adam Rylski at 203-671-6903 or 203-931-1979, or the Ansonia Nature Center at 203-736-1053.
Fiber Arts Group – Tuesdays, 6 pm
Get together with others to work on your fiber arts projects! Bring any kind of fiber work—knitting, felting, crocheting, etc. A great way to dedicate time to your handiwork and socialize too. FREE.
Yoga for a Healthy Mind and Body – Thursdays, 6:30 pm
Hatha Yoga instructor and practitioner Pam Mellitz will lead us into a healthier lifestyle through stretching, breath control and gentle exercise. The 90-minute classes require a mat or thick towel; dress for easy movement. Class is limited to 12 students. $7 per class. Please call Pam to register at 203-888-4124.
Creature Features – Saturdays, 12 noon
Come to meet our furry, scaly, and feathery animal ambassadors. You'll have the chance to touch and hold them in this FREE family program for all ages.
*********************************************************
***THINGS TO COME  (Winter 2018)***
Snowshoeing • Maple Sugaring • Owls