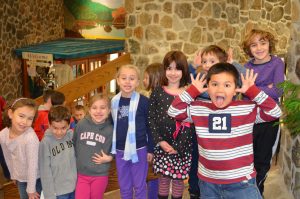 Please call to register for all programs.  Dates and times are subject to change.
Parties and organizational groups of more than 15 people visiting the park must call the Ansonia Nature Center (203 736-1053) and talk with a staff member about space availability and are required to rent the picnic pavilion for $125 including a $200 returnable clean up deposit
Scout or other organizational groups must book a separate class or program than those being offered to the public.
**************************************************
MAY 2019
ADVENTURES IN EDIBLE PLANT FORAGING –  Sat. May 18, 10 am
Karen Monger is the author of the 3 Foragers blog, which she runs with her husband, Robert. Come join them for a short lecture and a hike to discover and identify edible plants in the park. Their mission is to impart their knowledge of wild edible plants to others. FEE: $6 per person for this family program.
NATURE EXPLORERS – Wednesdays, May 22, 29; June 5, 12; 10 am
Join us for this 4 week pre-school/toddler program for children ages 2-5 and their adult explorer. Participants will have fun exploring nature every week in these outdoor classes. The classes are typically loosely structured and influenced by the seasons and the interests of the children. We will go outside for a short hike and to explore nature every class so please dress for the weather. Classes will end with a light snack (provided or bring your own) and conversation. TUITION: $40 for all 4 weeks, space permitting (cash or check payable to Ansonia Nature Center), due at the first class. Class is limited to 10 children. Please call to register: 203-736-1053.
MIGRATORY BIRD WALK – Sat. May 25, 9 am
Warblers, catbirds, and grosbeaks, oh my! Join Ranger Jess for a migratory bird experience. The Ansonia Nature Center is the home to many migratory birds. See redstarts, common yellow throats, towhees, and more during this birding adventure. This is a slow-paced walk on uneven terrain. Dress for the weather and bring your binoculars. FREE; please register.
~
JUNE 2019
CONNECTICUT TRAILS DAY – Sat. June 1, 9 am
Join Nature Center Director Alison Rubelmann and Ranger Daniel Bosques for this morning walk. Discover the beauty of the Nature Center's typical New England woodland during the CT Forest and Park Association's annual Trails Day weekend. We might get lucky and find a lady slipper or two. This moderate hike will also focus on the history of the land, and we will visit the settlement of the Paugasucks. Bring water, a snack, and bug spray, and wear sturdy shoes. Suitable for older children and adults.  FREE.
CT DEEP FISHING EDUCATION PROGRAM – Sat. June 8, 9:30 am–3:30 pm
The Ansonia Nature Center is sponsoring this Department of Energy & Environmental Protection C.F.E.P. (Connecticut Fishing Education Program) Family Fishing Class. This is an opportunity for interested people of all ages to learn about fish identification, how and where fish live, fishing tackle and techniques, fishing laws and regulations, how to tie a strong knot, how to clean and cook your catch, sportsmanship and safety, how to cast, and where to catch fish. The 2-hour classroom instruction at the Nature Center will be immediately followed by fishing with the instructors at Colony Pond until 3:30 pm. All equipment and bait will be provided. Adults over the age of 16 are required to have a fishing license to participate in the fishing event. This FREE program, taught by Certified DEEP C.F.E.P. Instructors, is open to everyone 7 years old and up; children under 12 years old must be accompanied by an adult. To register or for more information call the Chief Instructor, Dave Connelly: 203-231-0946.
FANCI ANNUAL MEETING AND POTLUCK SUPPER – Wed. June 12, 5:30 pm
If you're a FANCI member who can't make the regular meetings, now is the time to find out what we've been up to! Reports and the election of officers will take place. Bring your own table setting and a dish to share (12 servings), and your ideas and suggestions for next year's activities. Please register in advance.
MUD KITCHEN MADNESS – Sat. June 15, 1 pm
Calling children ages 3-5 years old and parents who don't mind letting their children get muddy. Come to the Nature Center and use water and dirt to "cook up" mud pie masterpieces. Children will learn a physical understanding of volume, measuring, and the effects of water on soil. They will have pots, pans, spoons, bowls, and other materials to play in the mud. This program will be gently supervised by Ranger Amie. Bring your own apron, towels and a change of clothes. Your children will get muddy from head to toe so make sure they wear old clothes and shoes you don't care about. Please call to register; class limited to 20. FEE: $6 each.
FIELD TRIP:  Silver Sands Mollusk Walk – Sat. June 22, 9:30 am
Meet the Nature Center staff at Silver Sands State Park for a natural history walk. We will join Tim Chaucer, Director of Milford Marine Institute, Inc. and Gulf Pond Museum, for a leisurely interpretive walk to learn more about Connecticut's marine mollusks. We will find examples of 2 of the 5 groups of mollusks, discuss and handle them, and learn the differences between the gastropods and pelecypods and which ones are vegetarians or carnivorous. This walk will last about 60 to 90 minutes. Meet in the Silver Sands parking lot at 9:15 am. FEE: $6 per person. Please call to register.
EXPLORE REDWING POND – Sat. June 22, 1 pm
Join Ranger Dawn to learn what critters inhabit our beautiful Redwing Pond. Start with a short talk on the types of reptiles, amphibians, and insects you will see during your exploration. Head to the pond with nets and buckets to collect and observe these creatures. At the end participants will release the animals back into their home, the pond. Family-friendly program; children must be accompanied by an adult. Wear appropriate clothes and shoes for this wet and muddy adventure. FREE; please register in advance.
THEMED GUIDED HIKE: Wild Medicine in the Park – Sun. June 30, 1 pm
Join Ranger Jess for our Sunday guided themed hike. She will take you on this wild plant foray! You'll hike around the Nature Center property hunting out wild medicinal plants and learning to identify them. She will also teach you how to make them into medicine. Sample some edible plants along the way too! Yum… For children 8 years old and up accompanied by an adult.  FEE: $6 per person.
And register now for SUMMER NATURE DAYS!
Open registration; choose one or both of our week-long sessions, each held Mon.–Fri., 9 am to 3 pm.
Dates: Aug. 5–9, Aug. 12–16.
For children 6 to 11 years old who love the outdoors and wildlife, these popular classes are not only educational but also a chance to explore the park's 156 acres. We will visit a variety of habitats in the park such as wetlands, fields, and woodlands. Hikes, games, crafts, and cooking will be incorporated into our lessons. A great choice for a fun late-summer experience!
TUITION PER WEEK: $150 priority students (Ansonia residents and current family-level FANCI members), $175 all others.
***ONGOING PROGRAMS***  
Sunday Guided Hikes – Sundays, 1 pm
Join a Nature Center guide on Sunday afternoons for fun, exercise, and learning about our trails! See the above listings for hikes with a specific theme.
Monday Night Trail Run – Mondays, April–June,  5:30-6:30 pm
This is a call to all of the runners who want something out of the ordinary! Ranger Dan will lead you through our 156-acre park's network of trails, while you burn off the weekend's extra calories. We guarantee that this program is the best way to start your week. FREE; must register and wear appropriate footwear. Adults only. Class dates are subject to change.
Karate Club – Tuesdays, 5-week sessions: April 2, 9, 16, 23, 30; May 7, 14, 21, 28, June 4; and June 11, 18, 25, July 2, 9, 5:45–6:15 pm
This program at the Nature Center is for children 3-12 years old. Students will engage in martial arts techniques and activities while learning skills such as discipline, focus, self-control, and confidence. They can earn higher-ranking belts as their participation continues. TUITION per 5-week session: $40 (cash or check payable to AMAA), which includes a Karate Club T-shirt and white belt. For more information call Chief Instructor Adam Rylski at 203-671-6903, Program Coordinator Theresa at 203-506-3816, or the Nature Center at  203-736-1053.
Fiber Arts Group – Tuesdays, 6 pm
Get together with others to work on your fiber arts projects! Bring any kind of fiber work—knitting, felting, crocheting, etc. A great way to dedicate time to your handiwork and socialize too. FREE.
Yoga for a Healthy Mind and Body – Thursdays, 6:30 pm
Hatha Yoga instructor and practitioner Pam Mellitz will lead us into a healthier lifestyle through stretching, breath control and gentle exercise. The 90-minute classes require a mat or thick towel; dress for easy movement. Class is limited to 12 students. $7 per class. Please call                Pam to register at 203-888-4124.
Creature Features – Saturdays, 12 noon
Come to meet our furry, scaly, and feathery animal ambassadors. You'll have the chance to touch and hold them in this FREE family program for all ages.
***THINGS TO COME  (Summer 2019)***  Summer Nature Days • Reptiles • Firefly Hike