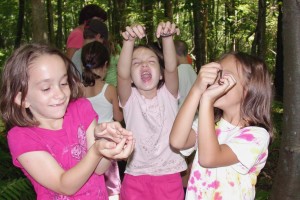 **************************************************
______________________________________________________________________________
THE ANSONIA NATURE CENTER BUILDING IS CLOSED TO THE PUBLIC UNTIL FURTHER NOTICE DUE TO COVID-19.  ALL OUTSIDE AREAS ARE OPEN. ALL PROGRAMS ARE VIRTUAL OR OUTSIDE UNTIL FURTHER NOTICE.

************
Because of concerns about Covid-19, the Ansonia Nature Center is running outdoor programming only and asking participants of those programs to practice social distancing and wear masks.
The Nature Center building is closed and all indoor programs are cancelled until further notice.
Calendar of Events
Mushroom Hunt, Saturday Nov 14 @ 1 pm
Join Ranger Evelyn to explore the diversity of decomposers on this in person nature hike. Together we will seek out mushrooms and see how many different kinds we can find.
Please bring your own basket to collect mushrooms for a group display at the end of the hike. All collected items will be returned to Nature.
Nature stays in Nature
If you would like, you can download the Seek app from iNaturalist to help you identify mushrooms.
For ages 8+
Space is limited; registration is REQUIRED. NO WALK-INS
All participants must fill out wavier and health screen to participate
Call 203 736-1053 to register or email ansnaturectr@ansoniact.org
Masks and social distance mandatory.
Fiber Arts Group – Tuesdays, 6 pm via zoom
Get together with others to work on your fiber arts projects! Bring any kind of fiber work—knitting, felting, crocheting, etc. A great way to dedicate time to your handiwork and socialize too. FREE.
*********************
---
Nature Trivia Night-
Nature Trivia Night will conclude on October 29th at 7:00 pm with a Halloween-themed Spooktacular! What would the season be without vampire squids, zombie ants, ghost bats, and skeleton shrimp? Questions will feature the creepy, the spooky, and the downright weird, for an evening of fun for the whole family!
Registration is required for this virtual event. To register, call (203) 736-1053 or email ansnaturectr@ansoniact.org with subject line 'Nature Trivia.'
This is a FUN FAMILY-FAMILY FRIENDLY PROGRAM