Come meet our resident animals!
Most of the animals exhibited at the Nature Center are here because they are unable to survive in the wild. Some are domesticated animals that were surrendered by their previous owners, others are injured wild animals that are now unable to hunt or escape from predators. The ANRC views these animals as ambassadors of their species and displays them in settings so visitors can appreciate their beauty, observe their behavior, and better understand their lives.
Our Animal Ambassadors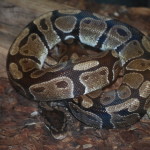 E.T., our Ball Python, was found slithering down the halls of the Ansonia Middle School. These snakes–native to the savannas and grasslands of Africa–have become popular pets due to their docile temperament. Many people do not know that these snakes can live up to 30 years and often end up offering them up for adoption. E.T. is a huge part of our Animal Ambassador program and frequently travels with us to events! He's the chillest animal here, at the Nature Center!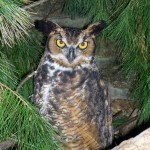 Mary, our Great Horned Owl (aka: GHO), came to us after having a rather unfortunate encounter with a barb wire fence. One of her wings was shattered beyond mending and had to be amputated. While Mary escaped all of this with her life, having only one wing, she is non-releasable and is a permanent resident here, at the Ansonia Nature Center, and has been here for over 15 years! You can view her outdoor enclosure through a large glass window inside the Nature Center.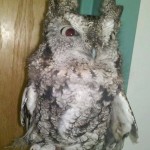 Sassafras, our Grey-phased Screech Owl, came to us from Jones Tree Farm with a broken leg. While she seems undamaged, Sassy's didn't fully heal from all of her injuries. Being a Screech Owl, she loves to sleep in cavities. When she goes to fly into her nesting box, she sometimes misses the opening. We think that her depth perception is off–a result of head trauma she might have gotten when she broke her leg. In addition to this, she cannot fly higher than 6 or 7 feet–her wings simply cannot give her the lift to get any higher. Lucky for Sassy, she has adapted to life in captivity quite well! This little owl often falls asleep while we are putting on her jesses and have her up on the glove. Sassy has gone to many schools to teach children about the Screech Owls that live out in our woods, here in Connecticut.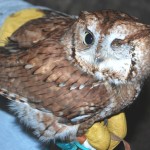 Red, Sassy's counterpart, is a Red-Phased Screech Owl. He was found standing on a street curb, exhausted, with his left eye closed. His encounter with a car left him blind in that eye. A one-eyed owl wouldn't last long in the wild–not only would it be very difficult for him to hunt, he'd quickly fall prey to other predators. Red's permanent home is here, at the Nature Center, where he shares an enclosure with Sassy. Even though we have a nesting box for each of them, we very often find them huddled together, asleep.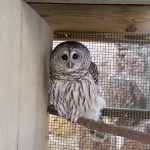 Barred owls are one of the most common owls in CT. In the woods surrounding the Nature Center, we frequently hear them hooting. Our staff have even sighted these owls in the early morning hours! Before being brought to us by Countryside Veterinary Hospital, Sebastian had received serious head trauma and a massive break in his left wing from a collision with a car. His wing could not be saved, so this lovely, one-winged barred owl's permanent home is here, at the Nature Center. He lives on a healthy died of 3 frozen-thawed mice nightly, fed to him in his pine bough filled enclosure.  Sebby is a bit shy, so he doesn't come out for a lot of programs, but when he does, his majestic presence is seldom forgotten.
Our other Animal Ambassadors
The Ansonia Nature Center is also home to Chuckles (a ring neck dove), Cutie (a guinea pig), a red eared slider turtle, several hundred honey bees, two small brown bats, salt water tide pool creatures, three box turtles, two anoles, and a tarantula.
Want to meet some of our animal ambassadors up close and personal? Come to our Creature Features, every Saturday at noon. It's then that we take out all of our tame animals to be petted and held!