Earth Day Celebration
Saturday, April 22nd, 2023
10 am to 3 pm
Every day is Earth Day at the Nature Center! We invite you to honor Mother Earth, with our Friends of the Ansonia Nature Center (FANCI) co-hosting this annual event. Enjoy hikes, live animals, environmental exhibitors, a farmer's market, music and more! Food and snacks available from local vendors. No park admission fee. All ages welcome; bring family and friends to celebrate Spring!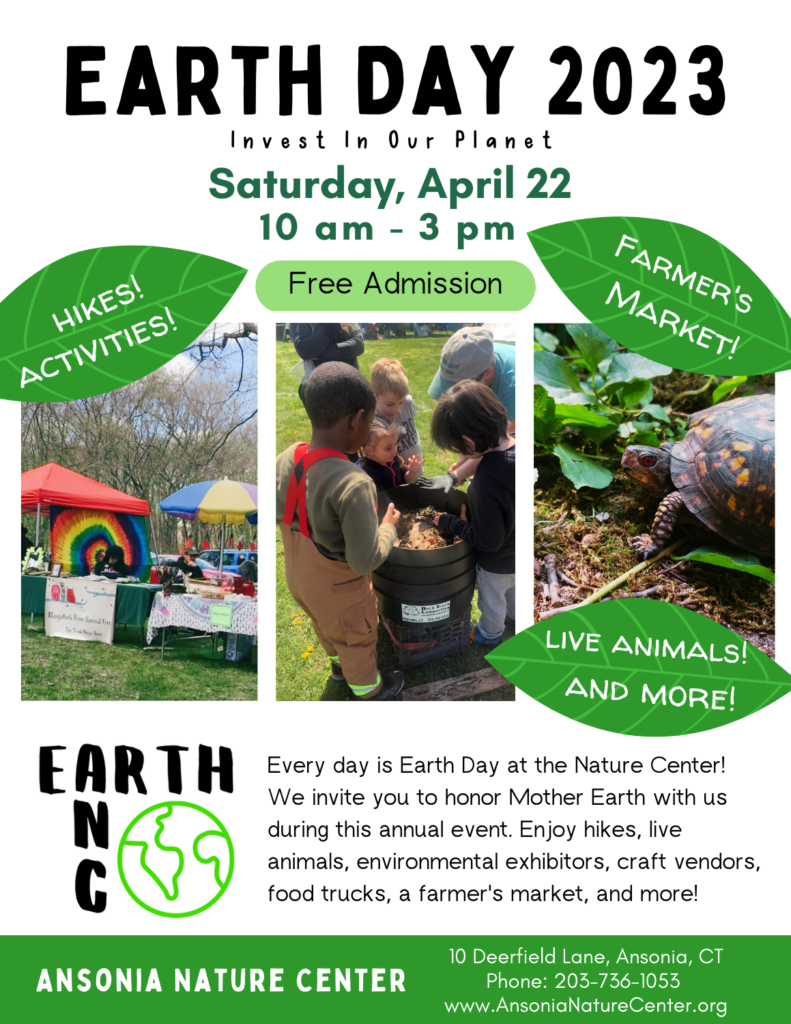 Schedule of Events – Stay tuned!

---
Earth Day FAQ

Q: Is there a fee to get in?
A: No, there's no admission fee for our Earth Day Celebration!

Q: Where do I park?
A: There are two parking lots available: our main parking lot in front of the Nature Center, and an auxiliary lot in front of the Redwing Pond House, located at 21 Milan St. Follow the directions of the parking attendants.

Q: What time does the event start?
A: The event starts at 10:00 AM and continues until 3:00 PM.

Q: Where do I go to join an scheduled event?
A: Hikes and most other scheduled events will meet at the entrance to the Nature Center. Featured Creatures with James will meet inside the Nature Center. Space is limited for our live animal show, and spots fill up fast, so come early!

Q: Will there be bathrooms available?
A: Yes, there will be outdoor portable toilets on-site as well as indoor restrooms.

Q: Will the Nature Center building be open?
A: Yes, the Nature Center will be open for Earth Day. We will be closed the day after (Sunday), and will re-open on Monday.

Q: Is there a rain date for this event?
A: Yes, the rain date is Sunday the 23rd, same time.

Q: Will there be places to sit and rest?
A: Yes, there are benches at the pavilion and bleachers next to the fields

Q: Is there handicap parking available?
A: There are handicap parking spots in our main lot, and some spots will be made available next to the field; tell the parking attendant if you require accessible parking.

Q: Can I bring my dog?
A: Dogs are not allowed at this event, with the exception of service animals.

Q: Is this event stroller-friendly?
A: You are welcome to bring a stroller, but be advised that exhibitors and vendors will be set up on the athletic field, the condition of which can vary based on recent weather.

Q: Will there be an ATM available?
A: Yes, there will be an ATM at this event.

Q: Is outside food allowed?
A: Yes, if you would like to bring a bagged lunch or snacks with you, you are welcome to do so.

Q: Can I donate items to the raffle?
A: Yes! We welcome donations, and will be accepting raffle items up until Monday the 18th. When you drop items off at the Nature Center, be sure to fill out the Donation Log sheet.

Q: Will the Nature Center be having a bake sale?
A: No, the Nature Center is not holding a bake sale this year.