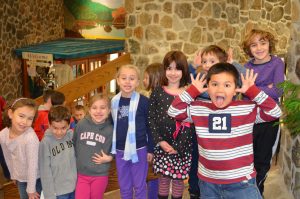 We are not booking Birthday Parties at this time.
Get Wild with our animals on your birthday at the Ansonia Nature Center!
Birthday Party Package Includes:
* Nature Center admission for up to 40 guests, up to 20 being children.
* Animal presentation with the animal of your choice!
* An up-close and personal meeting with one of our Nature Center's Animal Ambassadors!
* A craft, hike, or other animal themed age-appropriate activity!
* A FANCI Birthday Party Presenter to help you with set-up, clean-up and to help run your party
* A section of the Nature Center building for 2 hours
Pricing is: $200 for FANCI members or $225 for non-FANCI members. Payment is due with registration. Fee includes up to twenty (20) children. There is no fee for accompanying adults, but the large classroom comfortably holds approximately 40 people.**
Take your pick of the following programs:
Mad for Mammals
Reptiles Rule
Bird Brains
Mad for Mammals: Guinea Pig or Angora Rabbit
Reptiles Rule: Snake (Ball Python), or Box Turtle
Bird Brains: Ring-Neck Dove
Awesome Amphibians: Grey Tree Frog, Pickerel Frog
And pick your time:
Saturday or Sunday
10:00am -12:00pm or 2:00pm – 4:00pm
The total time your have at the center is 2 hours. 15 minute setup time by family, 45 minute educational live animal presentation by FANCI, 45 minute food and gift time by family, and 15 minute cleanup by family.
All parties must be booked 3 weeks before the party date. Please call before booking your date. Dates will be held for three days. Upon the third day, payment and registration are required to secure the date.
Download the birthday party registration form here!
Frequently Asked Questions:
Where will my birthday party be?
The birthday party room is the large class room located at the bottom of a short flight of stairs. This room will have two tables with chairs and one 6′ collapsible/folding table that can be set up for food/gift storage. More tables and chairs are available upon request for no added fee. This room comfortably holds 40 people. We suggest coming in and looking at the room if you are concerned about space. If you would like to have a larger party, we suggest booking the picnic pavilion and coming inside for the animal presentation part of your birthday program.
Do the children get to touch the animals?
Yes! All of our Birthday Party Animal Ambassadors can be pet and/or held (with the exception of the tarantula, that can be held by older children, but not pet). All of the birthday party attendees get to pet the animal and the birthday boy/girl gets to hold the animal!
Who provides the cake and pizza?
We do not provide food. You will need to bring cake and any other food that you would like to have. You may order pizza and have it delivered to the Nature Center. Alcohol is not allowed on Nature Center property.
How do I pay for my party?
We accept checks (made out to FANCI) and Paypal payments. Please check that your date is available before sending a payment through Paypal.
Can I bring balloons, pinatas, or other decorations?
No balloons. Pinatas are allowed outside the building if all mess is cleaned up. Any pieces left behind will be considered litter and will be reported to the police as such. Decorations are allowed (and encouraged!) inside the building so long as you take all of them down (and take them with you!) once the party is over.
Where can I find the birthday party registration form?
You can find the form HERE.
**What happens if I bring more than 40 people to my birthday party?
Parties with more than 40 people will be asked to move their party outside and will be required to rent the picnic pavilion for an additional $125.
More information about booking the pavilion can be found HERE.