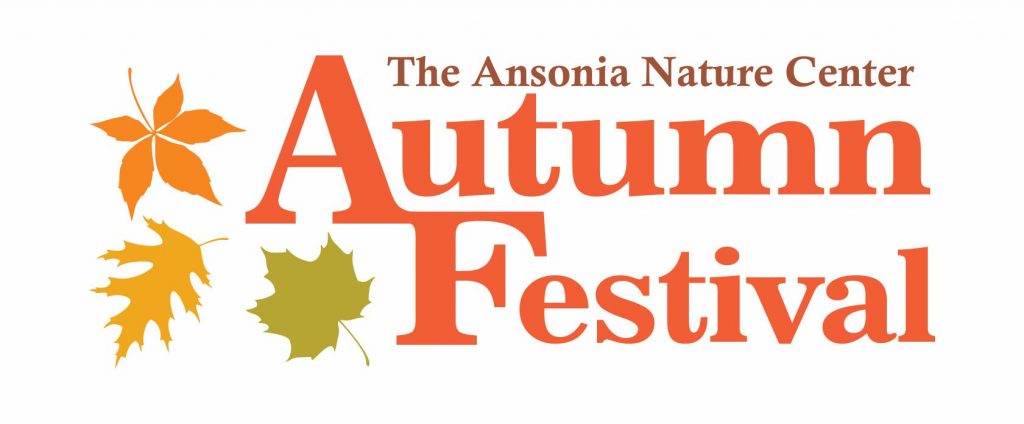 Saturday, October 15, 2022
Autumn time is here, and the Ansonia Nature and Recreation Center invites you to their annual Autumn Festival. Attractions include horse-drawn wagon rides, pumpkin painting, crafts, face-painting, raffles, a haunted trail walk, animal shows, petting zoo, vendors, food trucks, and more! Save your pumpkin-spicey appetites for the yummy offerings, which will include: Valley Jim's Soft Serve, SWAT Food Truck, donuts, cider from Silverman's Farm, and more!
NO park admission fee. RAIN or SHINE. Sponsored in part by the Friends of the Ansonia Nature and Recreation Center and the City of Ansonia. Call us for more information at 203-736-1053.
Schedule of Events:

11am Autumn Fest Begins!
11:30am Horse Drawn Wagon Rides begin: $6/person
11:30am Petting Zoo opens: $3/person
12:00pm Creepy Crawlies (Live Animals with James Tully) FREE
1:00pm Batty for Bats (Live Animals with Ranger Jeremy) FREE
2:00pm All About Owls (Live Animals with Ranger Dawn) FREE
3:00pm Last Wagon Ride!
3:30pm Petting Zoo closes
3:30pm Raffle Winners Drawn!
4:00pm End of Festival!
All Day Events:
Horse-Drawn Wagon Rides (11:30am-3:30pm) – $6/person
Children 3 and under are FREE, but MUST sit in parent/guardian's lap
This year, the starting place to board the horse-drawn wagon ride has moved to Pavilion #2. Follow the posted signs and the Spooky Trail around the pond to get there. Enjoy games and a goldenrod maze in the field while you wait for the wagon to arrive! No food or drink allowed on the wagon ride, and no dogs other than service animals.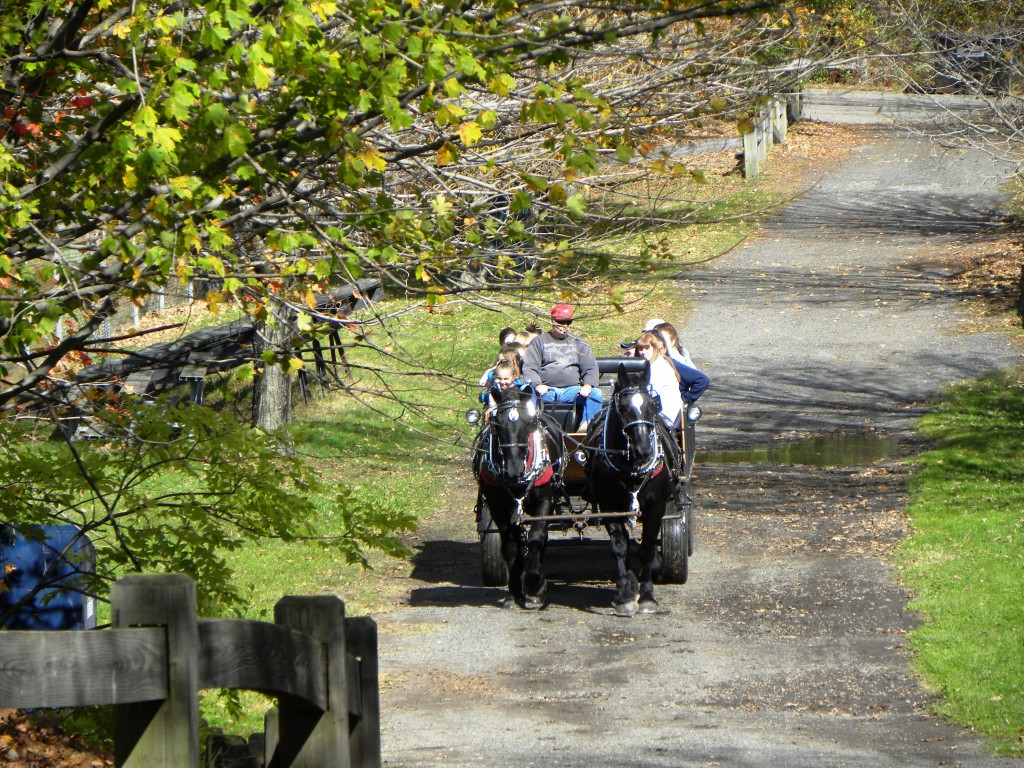 Petting Zoo: New this year, J. C. Petting Zoo will be at Autumn Fest! Petting Zoo will run from 11:30am to 3:30pm. Tickets are $3
Outside Main Building:
Spooky Trail, Vendors, Exhibits, Pumpkin Painting- $6 while supplies last, Local Artists, Crafts for Kids, Animal Programs, Cider, Donuts, Cookies, … AND MORE!
We are currently accepting donated items for our Raffle!
Yes! We welcome donations, and will be accepting raffle items up until Saturday the 8th. When you drop items off at the Nature Center, be sure to fill out the Donation Log sheet! There will NOT be a Bake Sale this year!
Raffle: The raffle can be found at FANCI's table, see vendor/exhibitor map. $1/ticket or $5/seven tickets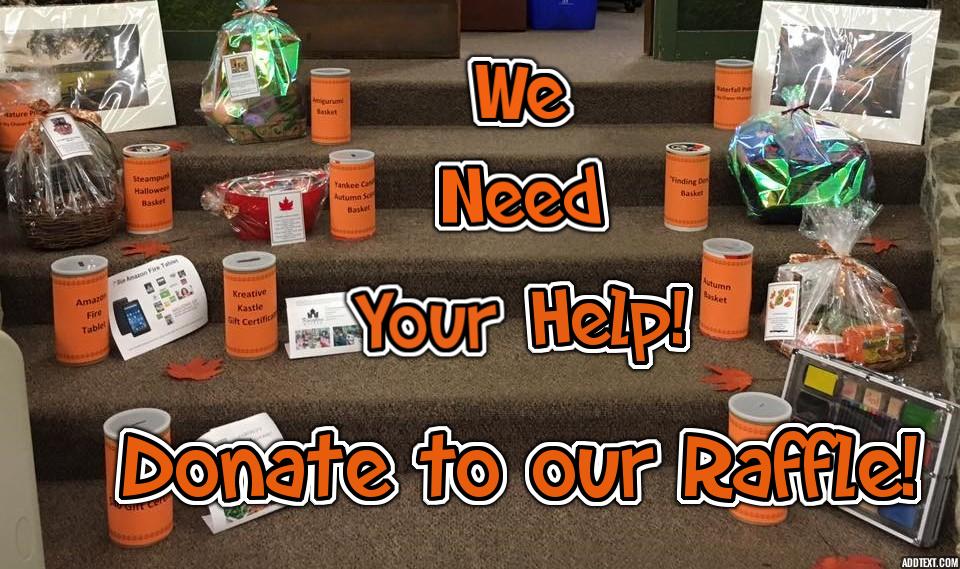 Event Map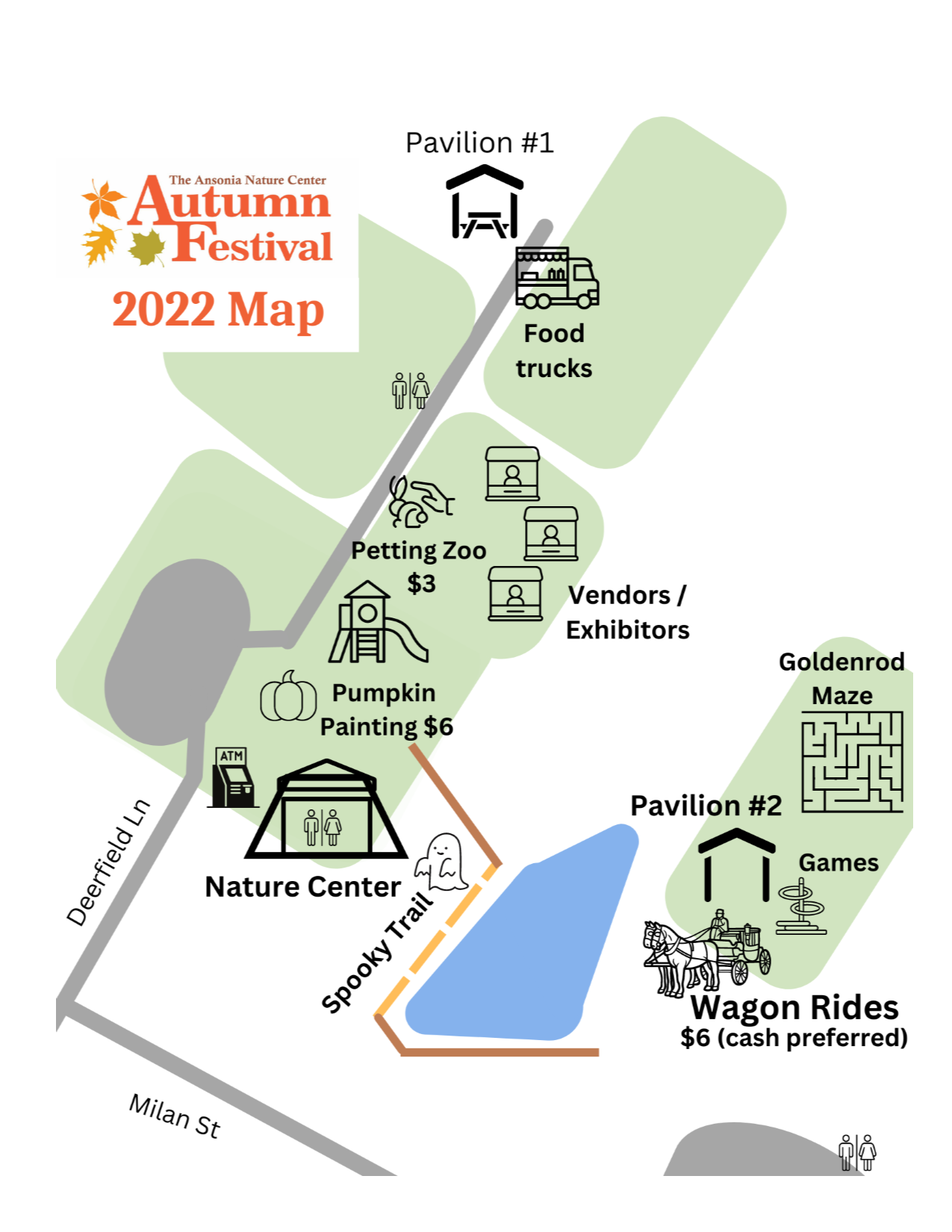 Click here for downloadable map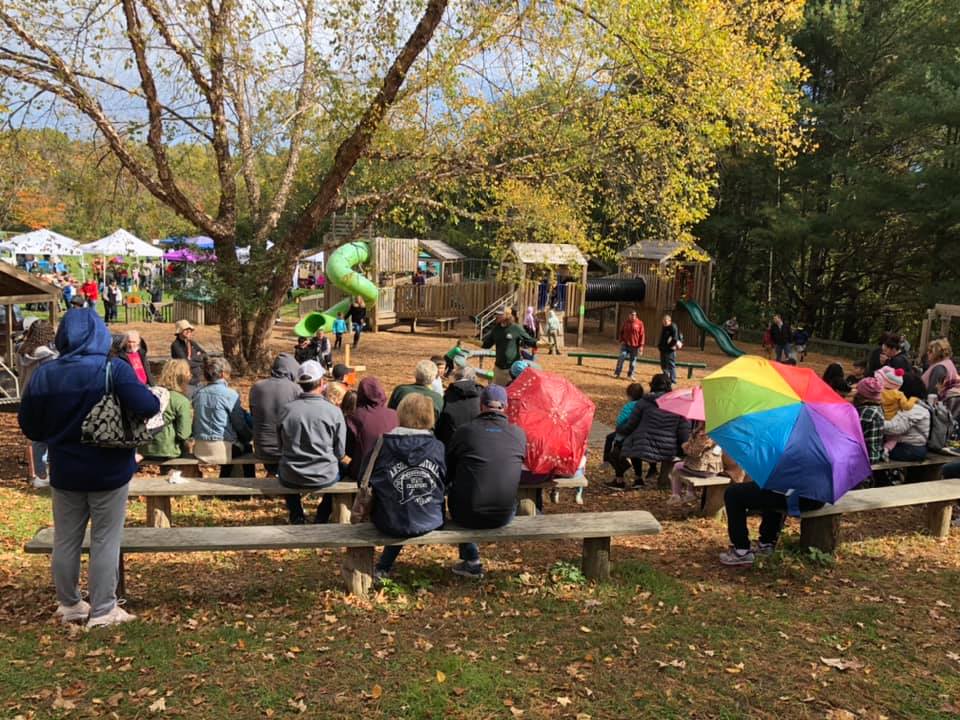 FAQ
Q: Is there a fee to get in?
A: No, there's no admission fee for our Autumn Fest Celebration!

Q: Do I need to bring cash?
A: The Wagon Rides, Raffle, and Pumpkin Painting are cash-only at this time, and is up to the individual vendors whether they accept cash or card, so it is recommended to bring cash to this event.
Q: Where do I park?
A: Follow the directions given by the parking attendants. Do NOT park on Deerfield Lane, Benz Street, or Milan Street.
Q: What time does the event start?
A: The event starts at 11:00 AM and continues until 4:00 PM.
Q: Will there be bathrooms available?
A: Yes, there will be outdoor portable toilets on-site, and bathrooms available inside the Nature Center.
Q: Will the Nature Center building be open?
A: Yes, the Nature Center will be open on the day of the event. During the live animal shows, it will be at limited capacity so it is recommended to arrive early to see a show. Bathrooms will remain available to all during shows but new visitors will not be admitted into the main building once a show has begun.
Q: Is there a rain date for this event?
A: No, Ansonia Nature Center's Earth Day celebration will take place on Saturday the 23rd, rain or shine.
Q: Will there be places to sit and rest?
A: Yes, there are benches at the pavilion and bleachers next to the fields
Q: Is there handicap parking available?
A: There are handicap parking spots in our main lot, and some spots will be made available next to the field; tell the parking attendant if you require accessible parking. Additionally, there is an handicap accessible indoor bathroom should you need it
Q: Can I bring my dog?
A: Dogs are not allowed at this event, with the exception of service animals.
Q: Is this event stroller-friendly?
A: You are welcome to bring a stroller, but be advised that exhibitors and vendors will be set up on the athletic field, the condition of which can vary based on recent weather. Additionally, the walk over to the wagon ride staging area is not stroller-friendly.
Q: Is outside food allowed?
A: Yes, if you would like to bring a bagged lunch or snacks with you, you are welcome to do so.
Q: Can I donate items to the raffle?
A: Yes! We welcome donations, and will be accepting raffle items up until Saturday the 8th. When you drop items off at the Nature Center, be sure to fill out the Donation Log sheet!
Q: Can I donate to the bake sale?
A: No, the Nature Center will not be holding a bake sale this year