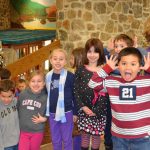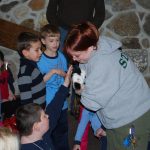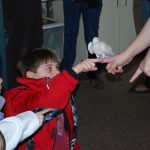 Book your birthday party at the Ansonia Nature Center!
Take your pick of the following programs:
Awesome Amphibians (Spring/Summer only)
Mad for Mammals
Reptiles Rule
Bird Brains
Creepy Crawly (insects and spiders)
And pick your time:
Saturday   or     Sunday
10:00am -12:00pm     or     2:00pm – 4:00pm
For $150 for FANCI members or $175 for non-FANCI members (includes 1 year FANCI Family Membership), you get a 45 minute live animal presentation.
The total time your have at the center is 2 hours. 15 minute setup time by family, 45 minute educational live animal presentation by FANCI, 45 minute food and gift time by family, and 15 minute cleanup by family.
The birthday party room is the small class room located at the top of a short flight of stairs. This room will have two tables with chairs, one smaller table for cake/presents, and the top of a short bookcase for food/gift storage. More tables and chairs are available upon request for no added fee.
Those booking the party are responsible for their attendees at all times. The Ansonia Nature Center does not provide staffing to watch children.
Payment is due with registration.  Fee includes up to twelve (12) children.  There is no fee for accompanying adults but total party participants cannot exceed 24.
Birthday parties with more than 12 children & 12 adults will be required to rent the pavilion.  There is a $5.00 fee for each additional child.  More information about renting the pavilion can be found here.
Download the birthday party registration form here!