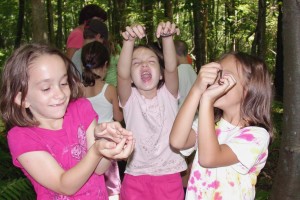 Please call to register for all programs.  Dates and times are subject to change.
Parties and organizational groups of more than 15 people visiting the park must call the Ansonia Nature Center (203 736-1053) and talk with a staff member about space availability and are required to rent the picnic pavilion for $125 including a $200 returnable clean up deposit
Scout or other organizational groups must book a separate class or program than those being offered to the public.
**************************************************
JULY 2019
Register now for SUMMER NATURE DAYS!
Open registration; choose one or both of our week-long sessions, each held Mon.–Fri., 9 am to 3 pm.
Dates: Aug. 5–9 (FULL), Aug. 12–16.
For children 6 to 11 years old who love the outdoors and wildlife, these popular classes are not only educational but also a chance to explore the park's 156 acres. We will visit a variety of habitats in the park such as wetlands, fields, and woodlands. Hikes, games, crafts, and cooking will be incorporated into our lessons. A great choice for a fun late-summer experience!
TUITION PER WEEK: $150 priority students (Ansonia residents and current family-level FANCI members), $175 all others. 
CREATURES OF LONG ISLAND SOUND – Sat. July 13, 12 pm
This is a great weekday family program to learn all about the creatures of Long Island Sound. We will explore the Nature Center's salt water tank and learn how to identify and hold common critters you will find at New England's local beaches this summer. FREE.
FIREFLY HUNT – Tues. July 16, 7:30 pm
Follow the Nature Center's ranger along our wooded paths looking for glowworms in the leaf litter under the light of the moon. We'll end the hike with a show by beetles in the Lampyridae family, better known as lightning bugs and fireflies. FEE: $3 per person. Wear shoes for hiking.

TREE ID HIKE – Sun. July 21, 1 pm
Join Ranger Jess to learn how to identify trees by their bark, branches, and leaves along the Donna Lindgren Tree Identification Trail. Hear stories of how people have used wood over the years for many different things. Discover 45 trees along the trail, which transverses a variety of habitats including abandoned agricultural fields and pastures, deciduous forest, wetland, and pine plantation. FREE; wear appropriate hiking shoes.
NATURE AS MENTOR – Wed. July 31, 1:00–2:30 pm
Join Marlow Shami, a nature-based teacher, artist, healer and writer, who will conduct the Nature As Mentor program for adults. Learn the magnificent language of nature in this powerful workshop. Discover your unique niche as part of our planet's restoration plan. The wisdom of elder/earth-based cultures as well as recent empirical research in the fields of ecopsychology and environmental psychology, mindfulness-based stress reduction, meditation, and energy medicine, provide the foundation of this program. Attendees acquire simple tools to access the guidance they seek and restoration needed for negotiating the challenges of daily life. Discover how to actively engage in caring for our shared home. Adults only. Please call to register. FEE: $20 per person.
AUGUST 2019
CHRIS ROWLANDS: Puppeteer and Singer –Fri. Aug. 2, 7 pm
Chris Rowlands is an award-winning singer and songwriter who offers an interactive kid-friendly presentation for those who love music and nature. He creatively blends music, comedy, and education in a fast paced show that teaches and inspires. Chris brings animals to life through song, dance, puppets, and colorful props, to teach children about animals and their habitats. The Environment Magazine has honored Chris with its first E Award for his environmental education programs. Don't miss this FREE musical program! 
SUMMER NATURE DAYS – Mon.–Fri., 9 am to 3 pm.
Dates: Aug. 5–9, Aug. 12–16.
See beginning of calendar for more information.
FALL TERM JUNIOR RANGERS – Registration.begins Thurs. Aug. 8; class runs Thursdays, Sept. 12–Oct. 31, 3:30–5 pm.
Calling all kids 11 to 14 years old who love nature! Has your child wanted to work with animals, garden, help maintain our trails, and help with special events? This is the opportunity to help the Nature Center in our 8-week after-school program. Parental permission is required. Class size is limited; this class fills up fast! FREE.
BUTTERFLIES AND DRAGONFLIES  Sun. Aug. 11, 1 pm
Enjoy your Sunday afternoon at the park on our guided hike. Explore the Redwing Pond and our meadow for these beautiful six-legged, four-winged insects. The guide will show you our native butterfly gardens and teach you the benefits of native plants to our CT butterflies and dragonflies. FREE.\

REPTILES OF CONNECTICUT – Sat. Aug. 17, 1 pm
Join Paul Benjunas from the Connecticut Department of Energy and Environmental Protection's (DEEP) Wildlife Division for an educational talk, highlighting Connecticut's native reptiles. Learn more about our scaly residents through Paul's tales of photographing these often misunderstood animals. This presentation will feature live reptiles and is for all ages. FREE.  Please register. 
NATURE EXPLORERS
Wednesdays, Aug. 21, 28; Sept. 4, 11; 10 am
Join us for this 4 week pre-school/toddler program for children ages 2-5 and their adult explorer. Participants will have fun exploring nature every week in these outdoor classes. The classes are typically loosely structured and influenced by the seasons and the interests of the children. We will go outside for a short hike and to explore nature every class so please dress for the weather. Classes will end with a light snack (provided or bring your own) and conversation. TUITION: $40 for all 4 weeks, space permitting (cash or check payable to Ansonia Nature Center), due at the first class. Class is limited to 10 children. Please call to register.
SEPTEMBER 2019
NATURE EXPLORERS
Wednesdays, September 4, 11; 10 am
See Aug. 21 for more information.
CANCELED___THEMED GUIDED HIKE:  Goldenrod Jungle
Sun. Sept. 8, 1 pm
THIS PROGRAM IS CANCELED! For all nature enthusiasts! Enjoy a walk through the park's fields and vast Goldenrod Jungle. You'll be amazed at the diversity of insects, spiders, and birds that depend on this unique habitat for survival. FREE guided hikes every Sunday at 1 pm.
FALL TERM JUNIOR RANGERS
Thursdays, Sept. 12–Oct. 31, 3:30–5 pm.
See Aug. 8 for more information.
FULL HARVEST MOON HIKE
Sat. Sept. 14, 7:30–9:30 pm
This year, the September full Moon is called the Harvest Moon. Unlike other full Moon names, the Harvest Moon is tied to an astronomical event: the autumnal equinox. The full Moon that falls nearest to the equinox takes on the name "Harvest Moon". This Moon provides the most light at the time when it's needed to complete the harvest. FEE: $3 per person. Please wear appropriate footwear.
BIRDS ON THE MOVE – Sat. Sept. 28, 8 am
Join environmental educator and conservationist Sophie Zyla for this informative family friendly program on migratory birds. She will concentrate on the end-of-summer journeys taken by our "flying friends" to faraway places each year. Find out who's going and who's staying put!  FREE.
*********************************************************
***ONGOING PROGRAMS***  
Sunday Guided Hikes – Sundays, 1 pm
Join a Nature Center guide on Sunday afternoons for fun, exercise, and learning about our trails! See the above listings for hikes with a specific theme.
Family Organic Garden Program – Tuesdays, July 2, 9, 16, 23, 30; Aug. 6, 13, 20, 27; Sept. 3, 10, 17, 24; 3:30–5 pm
ANC will be continuing family-friendly activities in our organic garden. Learn about growing a variety of fruits and vegetables. Dress appropriately; keep in mind you will get water and soil on your clothing. FREE, with the potential to take home fresh produce!

Karate Club – Tuesdays, 5-week sessions: June 11–July 9, July 16–Aug.13, Aug. 20 – Sept. 17, 5–5:45 pm  
This summer and afterschool program at the Nature Center is for children 6-12 years old (Karate Kids), and 3-5 years old (Little Dragons). Students will engage in martial arts techniques and activities while learning skills such as discipline, focus, self-control, and confidence. They can earn higher-ranking belts as their participation continues. All classes in these sessions will be held outside. TUITION per 5-week session: $45 (cash or check payable to AMAA), which includes a Karate Club T-shirt and white belt. For more information call Chief Instructor Adam Rylski at   203-671-6903, Theresa at 203-506-3816, or the Nature Center at 203-736-1053.
Fiber Arts Group – Tuesdays starting Sept. 3, 6 pm
Get together with others to work on your fiber arts projects! Bring any kind of fiber work—knitting, felting, crocheting, etc. A great way to dedicate time to your handiwork and socialize too. FREE.
Yoga for a Healthy Mind and Body 
Thursdays starting Sept. 5, 6:30 pm
Hatha Yoga instructor and practitioner Pam Mellitz will lead us into a healthier lifestyle through stretching, breath control and gentle exercise. The 90-minute classes require a mat or thick towel; dress for easy movement. Class is limited to 12 students. $7 per class. Please call Pam to register and for fee at 203-888-4124.
Creature Features – Saturdays, 12 noon  
Come to meet our furry, scaly, and feathery animal ambassadors. You'll have the chance to touch and hold them in this FREE family program for all ages.
*********************************************************
***THINGS TO COME (Fall 2019)***  
Autumn Festival • Wreath Workshop