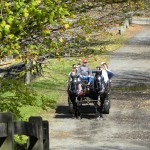 ***********************************************************************************
SEPTEMBER 2016
AUTUMNAL EQUINOX DRUMMING CIRCLE – Fri. Sept. 23, 7 pm
Join our drumming circle with Ranger Dawn. For adults and children 12 years and older. Welcome and celebrate our most colorful season!  FREE, but bring a canned food item for our local homeless shelter. We'll gather at Pavilion #2. Please register.
BIRDS ON THE MOVE – Sat. Sept. 24, 9 am
Come for birding with Ranger Jessica for this fun, informative program. She will concentrate on the end-of-summer journeys taken by our "flying friends" to faraway places each year.  Find out who's going and who's staying put! FREE; please call to register.
KARATE CLUB – Tuesdays, Sept. 20–Oct. 18, 5:00–5:45 pm
In this dynamic and energetic after-school program at the Nature Center for children in grades K-6, students will engage in various Martial Arts techniques and activities while learning important skills such as discipline, focus, self-control, and confidence. They will have the opportunity to earn higher-ranking belts as their participation continues. TUITION: $45 per 5-week session (cash or check payable to AMAA), which includes a Karate Club T-shirt and white belt. Please register and pay for the program by Mon., Sept. 19. For more information please call Chief Instructor Adam Rylski at either (203) 671-6903 or    (203) 931-1979, or the Ansonia Nature Center at (203) 736-1053.
OCTOBER 2016
YOGA FOR A HEALTHY MIND AND BODY –Thursdays, 6:30 pm
Our seasoned Hatha Yoga instructor and practitioner, Pam Mellitz, will lead us into a healthier lifestyle through stretching, breath control and gentle exercise. The full 1.5 hour classes require a mat or thick towel; dress for easy movement. Class is limited to 12 students. $7 per class. Please call Pam to register at 203-888-4124.
BITTERSWEET WREATHS – Sat. Oct. 1, 2 pm
Bring clippers and gardening gloves for this  FREE workshop led by Ranger Dawn. When you  collect these beautiful orange-berried vines, you're actually helping the park by removing this invasive plant species. Please preregister.
NATURE'S CHILD: Leafy Critters – Fri. Oct. 7, 10 am
Join our ranger to create an  animal out of leaves that have already fallen from the trees and shrubs in the park. Go for a fall discovery hike to learn why leaves change color! TUITION: $7 per child ($5 for family-level FANCI members and Ansonia residents). Please pre-register for this class for preschoolers and their adults.
HIKE AND DRAW WITH AMIE ZINER –Sat. Oct. 8 and Sat. Nov. 12, 10 am–2 pm
Ranger Amie, ANRC's resident artist, will teach this FREE outdoor drawing class at the Nature Center.  We will walk to a number of pretty spots along the trails, collecting small things to draw and stopping to do some landscapes, in pencil and watercolor. Bring your own sketchbook and pencils, portable watercolor and brush (optional), a portable stool if desired, and a water bottle. You must be able to walk on an easy trail for a mile or two. Please preregister.
ASTRONOMY: Lunar Sketching – Sat. Oct. 8, 7 pm
Come to Ansonia's darkest location for some fun viewing the moon with Bob Carruthers and the New Haven Astronomical Society. Get a chance to see the first-quarter moon's surface on Bob's TV camera as well as sketch its craters. Bring a clipboard and pencil. Class size is limited, so please register in advance. FREE.
MUSHROOM IDENTIFICATION FOR BEGINNERS – Sun. Oct. 9, 1 pm
What are those weird things that pop up in the woods after the rain? Are you mystified by wild mushrooms? Curious? Scared? Or do they make you hungry? Join a foraging family who hunt, photograph, identify, and eat the fungi in New England. The three foragers are from southeast CT and members of the CT Mycological Society and the North American Mycological Association. This program will dispel myths, teach how to safely identify mushrooms, and discuss mycophagy, the cooking and eating of wild mushrooms. Bring mushrooms you find in your yard and we'll use our newly learned skills to identify them. FEE: $5 per person; please call to register.
PET LOSS GRIEF SUPPORT GROUP Sundays, Oct. 9 & Nov. 13, 1 pm Losing a beloved animal can be tragic and a very emotional time for humans. There are numerous resources to turn to for the loss of a human loved one; however, there are limited options for when we lose an animal. Susan Wilson has created this support group for those who have lost an animal or have one in the process of moving on. Join us for these FREE sessions.
BACK TO BASICS: Soap Making with Goat's Milk – Sat. Oct. 15, 2 pm
This two-hour class will provide the basic skills you'll need to make wonderful soaps! Attendees will learn basic safety and traditional techniques required for this time-honored craft which makes great gifts—or soaps to keep for your own use. Soap samples and recipes will be provided. Bring a small container for your take-home samples. Instructor: Dawn Sotir. FEE: $10 per person.  Registration is required.
FULL HUNTER'S MOON HIKE – Sat. Oct. 15, 6:30 pm
This full moon is often referred to as the Full Hunter's Moon, Blood Moon, or Sanguine Moon. Many moons ago Native Americans named this bright moon for obvious reasons.  The leaves are falling from trees, the deer  are fattened, and it's time to begin storing up meat for the long winter ahead. Historically this moon was honored and served as an important feast day among many tribes. Join the Nature Center guides as we lead you around our park by the light of the moon. For all ages (children must be accompanied by an adult). Wear comfortable walking shoes for uneven terrain. FEE: $1.00. Please call to register.
AUTUMNFEST – Sat. Oct. 22, 11 am–4 pm
Celebrate this wonderful season with the staff and the Friends of the Ansonia Nature Center (FANCI)! Take a ride over hill and dale in our horse-drawn story wagon, where you'll hear some spooky Halloween tales! Learn about bats, spiders, and owls! Have some fresh apple cider and baked goods. Visit the Nature Shop to buy some creepy and crawly nature-related items. Enjoy nature-related exhibitors and vendors. You can try your hand at pumpkin painting, get your face painted, and make some original crafts. All proceeds will benefit the Nature Center's exhibits. RAIN or SHINE. No park admission fee. Call us for more information at 203-736-1053.
FALL DISCOVERY HIKE – Sun. Oct. 30, 1 pm
Join the Nature Center naturalist for a stroll through our woodlands, old fields, and wetlands. Enjoy the beauty and crisp fall air while learning about New England's flora and fauna. Wear appropriate shoes for this moderate hike. FREE.
NOVEMBER
VETERANS' DAY CREATURE FEATURE – Fri. Nov. 11, 12 noon
Looking for a fun activity for the children on this day off from school? Come and learn about the Nature Center's resident animals. The staff will talk about the different species of mammals, reptiles, insects, and birds we have on display. We will also teach the children how to touch and handle some of these soft, scaly, and slimy creatures. FREE; please register in advance.
FULL BEAVER MOON HIKE – Sat. Nov. 12, 6 pm
Join the rangers for this unique night hike designed for families. The name "Full Beaver Moon" comes from the fact that the beavers are now actively preparing for winter. It is sometimes referred to as the Frosty Moon too! FEE: $1.00 per person.  Please wear comfortable hiking shoes.  Register in advance.
PET LOSS GRIEF SUPPORT GROUP – Sun. Nov. 13, 1 pm
See Oct. 9 listing for description.
LIVE RAPTOR TOUR AT A PLACE CALLED HOPE: Field Trip – Sun. Nov. 13, 1 pm
Come meet the many species of birds residing and recovering at A Place Called Hope, a raptor rehabilitation and education center in Killingworth, CT. Tours last about 45 minutes to 1 hour and offer the public a unique opportunity to learn about any native species found in our state. Since 98% of the injuries APCH caters to are caused by conflicts with humans, learn simple tips and ways you can help to minimize these issues and co-exist more successfully with the wildlife in your very own backyard. Dress for outdoors and bring your cameras for this interactive experience. There is a $10 donation for APCH per person. 
BIRDS, WILDLIFE, AND FARM ANIMALS OF ICELAND  Fri. Nov. 18, 7 pm
Iceland, often called "The Land of Fire and Ice" because of its many volcanoes, glaciers, and spectacular waterfalls, is also a noted birder's paradise famous for the Atlantic puffins, ptarmigan, arctic terns, gyrfalcons, and other birds found along its 3,700 miles of coast. Reindeer, arctic fox, humpback whales, and seals can frequently be seen, and purebred Icelandic horses, Icelandic sheep, and goats roam the farmlands.  Naturalists and photographers Barbara and Peter Rzasa will present a slide show of Icelandic birds, wildlife, and farm animals. On display will be their collection of volcanic rocks and ash as well as guidebooks, literature and nature field guides. Join us for this FREE overview of Iceland and its natural history.
PRINCIPLES OF FIRECRAFT – Sat. Nov. 19, 10 am
Basic firecraft principles are very important to know. Whether or not you're the family camp-out fire starter, knowing how fire works is paramount to safety. Join Ranger Dan in learning about wood-gathering, fire safety, and fire starting with only one match! Children must be accompanied by an adult. FREE.
DECEMBER
NATURE'S CHILD: A Tree for Wildlife – Fri. Dec. 2, 10 am
Make some simple pinecone bird feeders, then take a short hike to visit our "giving tree." Children will learn about our local evergreen trees and how they make great shelter for wildlife in the winter. TUITION: $7.00 per child ($5.00 for family-level FANCI members and Ansonia residents). Please register in advance for this class for preschoolers and their adults.
WINTER WREATH WORKSHOP – Sat. Dec. 3, 10 am
Celebrate winter and the festive season as you create a wreath from fresh locally grown greens, then decorate your masterpiece with natural trimmings. Enjoy some warm mulled cider and a cookie too! Wreath frames and wire will be provided. Please bring your own hand clippers. Pre-registration required. MATERIALS FEE: $15.
BACK TO BASICS: Needle Felting – Sat. Dec. 3, 1 pm
Bring a dose of your own unique creativity for this class based on an ancient craft. Dawn Sotir, needlecraft wizard, will inspire you with her beautiful and practical items made from natural fibers. Create a 3D animal of your choice; it's easier than you might think! Pre-registration only for this popular program. FEE: $10.
117TH ANNUAL CHRISTMAS BIRD COUNT
Sat. Dec. 17, 12:30 pm
This annual survey provides important data to assess the increase or decline of avian populations worldwide. After an early morning start, the New Haven Bird Club will stop at the Nature Center for their lunch at 12:30. Be ready to join members of the club to look and listen along the park's trails. For adults. FREE.
DRUM IN THE WINTER – Sat. Dec. 17, 5 pm
True winter begins on December 21! On that day we'll have a full fifteen hours of darkness! Since June, the days have been getting shorter, but from now on, the reverse will be true. We'll stoke the fire pit, so bring your drum and other                        percussion instruments, and warm yourself with good fellowship. Ranger Dawn will lead us. FREE, but bring a canned food item for our local homeless shelter.
WINTER NATURE DAYS
Tues.–Thurs., Dec. 27–29, 10 am–2 pm
For children who love the outdoors and wildlife. These popular educational classes are designed for children 5 to 10 years old. We'll have a chance to explore the park's 150 acres and visit a variety of habitats. Come join new and old friends, play games, create beautiful and useful items using natural objects, and even go for a sled ride if we have snow. TUITION: $30/day ($90 for all 3 days) for priority students (Ansonia residents and current family-level FANCI members); $35/day ($105 for all 3 days) all others.  Please come in to register in advance by December 16.
**And plan to start 2017 with a hike!**
JANUARY 2017
NEW YEAR'S DAY HIKE – Sun. Jan 1, 2017, 10 am
Bring a healthy start to your new year at the                         Nature Center. Our ranger will conduct this                         brisk walk while you learn a little natural history                         trivia along the way. FREE, but please register                         in advance. Inclement weather cancels.
***ONGOING PROGRAMS***
Sundays: Guided Hikes, 1 pm
Thursdays: Yoga for Your Health, 6:30 pm—call Pam,
203-888-4124
Saturdays: Creature Features, 12 noon
***THINGS TO COME (Winter 2017)***  Snowshoeing •  Animal Tracking • Maple Festival • Owl Prowl
Please check back for updates!