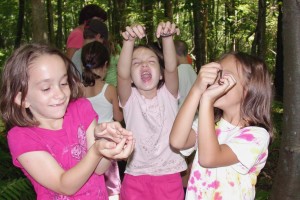 Please call to register for all programs.  Dates and times are subject to change.
Parties and organizational groups of more than 15 people visiting the park must call the Ansonia Nature Center (203 736-1053) and talk with a staff member about space availability and are required to rent the picnic pavilion for $125 including a $200 returnable clean up deposit
Scout or other organizational groups must book a separate class or program than those being offered to the public.
**************************************************
JUNE
CONNECTICUT TRAILS DAY – Sat. June 2, 9 am
Join Nature Center Director Alison Rubelmann and Ranger Daniel Bosques for this morning walk. Discover the beauty of the Nature Center's typical New England woodland during the CT Forest and Park Association's annual Trails Day weekend. We might get lucky and find a lady slipper or two. This moderate hike will also focus on the history of the land, and we will visit the settlement of the Paugasucks. Bring water, a snack, and bug spray, and wear sturdy shoes.  Suitable for older children and adults.  FREE.
FANCI ANNUAL MEETING AND POTLUCK SUPPER –Wed. June 6, 5:30 pm
If you're a FANCI member who can't make the regular meetings, now is the time to find out what we've been up to! Reports and the election of officers will take place. Bring your own table setting and a dish to share (12 servings), and your ideas and suggestions for next year's activities. Please register in advance.
CT DEEP FISHING EDUCATION PROGRAM–(2-day program) Classroom instruction: Sat. June 9, 9 am–11 am Fishing at Colony Pond: Tues. June 12, 5:30 pm–8 pm
The Nature Center is sponsoring this CT Department of Energy & Environmental Protection C.F.E.P. (Connecticut Fishing Education Program) Family Fishing Class. The classroom instruction will be held on June 9 at the Nature Center; fishing with the instructors and DEEP representatives will take place at Colony Pond in Ansonia on June 12. All equipment and bait will be provided. Adults over the age of 16 must have a fishing license to participate in the fishing event. Please pre-register for this FREE program, open to 7 years old and up; children under 12 must be accompanied by an adult.
WILD EDIBLE HARVEST AND FEAST – Sat. June 9, 1 pm
Join Rangers Jessica and Dawn on an epic foraging adventure. Together we will explore the wilds of the Nature Center's property to learn about and harvest wild edible plants. The program will conclude with tasting prepared wild edible treats like garlic mustard pesto, knotweed crumble and dandelion fritters back at the building. For adults and children ages 9 and up. FEE: $6 per person. Please pre-register.
SURVIVAL SCHOOL: Stay Dry, Stay Warm! –Sun. June 10, 10 am–1 pm
One of the basic necessities for a survival situation is shelter.  Staying dry goes hand in hand with keeping warm. Join Ranger Dan in scouting for a suitable place to build a shelter, and help construct a hideaway made from the surroundings. Learning this survival skill is a great reason to get out into nature! Be advised: We will be traveling off-trails, so insect awareness and terrain are your own consideration. Ages 14 and up. Class size limited, so you must pre-register. FEE: $10 per person.
NATURE AND PLAY FOR CHILDREN WITH AUTISM AND OTHER DEVELOPMENTAL DELAYS – Sun. June 10, 2:30 pm  See Apr. 15 listing for group description.
Session 3 activity: Big Meadow Exploration Hike
FIELD TRIP: Earth Tones Native Plant Nursery
Sat. June 16, 10 am (meet at nursery, 9:45 am)
Join the Nature Center for a field trip to Earth Tones Native Plant Nursery in Woodbury.  We will be provided a guided tour as we walk enjoying this beautiful rustic setting.  Learn about New England's grasses, ferns, perennials, shrubs and trees and how you can create an amazing landscape using natives.  If you're looking for plants that flourish without synthetic pesticides, rarely need watering, provide food and habitat for wildlife, be sure to bring some shopping money.  Space is limited so pre registration is required. For directions, visit www.earthtonesnatives.com.  We will meet in the parking area at the nursery at 9:45 a.m.
CREATURE FEATURE: Meet Our Scaly Friends –Sat. June 16, 12 noon
Snakes, lizards, and turtles, oh my! Come learn about the Nature Center's non-native and native reptiles. Get a chance to even touch some during the program. Take a short walk around the pond and to our snake boards to see what native species you can observe here in the park. This program is for all ages. FREE; please register in advance.
JULY
CREATURES OF LONG ISLAND SOUND – Sat. July 7, 12 pm
This is a great weekend family program to learn all about the creatures of Long Island Sound. We will explore the Nature Center's salt water tank and learn how to identify and hold common critters you will find at New England's local beaches this summer. FEE: $6 per person.
COMFREY SALVE – Sat. July 7, 1:30 pm
Ranger Dawn will show you how to make a salve from this amazing plant. Each person will take home complete instructions, a container of the salve you'll make in class, and your own comfrey plant! FEE: $10 per person. Adults and children 12 years and up. Please call to register.
TEA PARTY AND FAIRY HOUSES IN THE GREAT MEADOW – Sat. July 14, 1:30-3:30 pm
Ranger Amie will take the group up to the Great Meadow to explore the edge of the woods and field. You will have a tea party in the Small Pavilion, and then build some fairy houses with natural objects like sticks, rocks, and acorn cups! Herbal tea, creamer, sugar, cups and spoons will be provided. Bring snacks to share if you like. FEE: $5 per person. Bring a mat or blanket to sit on. For all ages; toddlers and babies welcome! All children must be accompanied by an adult. Group size is limited, so please pre-register.
FAERIE GLITTER – Sun. July 15, 2:30 pm
There are sparkly rocks all around us, if you know where to find them! Join Ranger Jessica in collecting and crushing this natural material to make your own super-shiny faerie glitter. As a bonus, you'll be helping the Earth by using a natural alternative to the plastic glitter sold by craft stores! Bring a container to take your new glitter home. FREE. For ages 5 years and up; children must be accompanied by an adult.
FIREFLY HUNT – Sat. July 21, 8 pm
Follow the Nature Center's ranger along our wooded paths looking for glowworms in the leaf litter under the light of the moon. We'll end the hike with a show by beetles in the Lampyridae family, better known as lightning bugs and fireflies. FEE: $3 per person. Wear shoes for hiking.
AUGUST
BUTTERFLIES AND DRAGONFLIES – Wed. Aug. 1, 1 pm
Enjoy an afternoon at the park on our guided hike. Explore Redwing Pond and our meadows for these beautiful six-legged, four-winged insects. See our native butterfly gardens and learn the benefits of native plants to our CT butterflies and dragonflies. FREE.
FALL TERM JUNIOR RANGERS – Registration.begins Thurs. Aug. 2
Class runs Thursdays, Sept. 13–Nov. 1, 3:30–5 pm.
CHRIS ROWLANDS: Puppeteer and Singer – Fri. Aug. 3, 7 pm
Award-winning singer and songwriter Chris Rowlands offers an interactive kid-friendly presentation for music and nature lovers. His fast-paced show's creative blend of music, comedy, and education teaches and inspires, using song, dance, puppets, and colorful props to teach kids about animals and their habitats. The Environment Magazine has honored Chris with its first E Award for his environmental education programs. Don't miss this FREE musical program!
EXPLORE REDWING POND – Sat. Aug. 4, 2 pm
Join our staff for a fun-filled afternoon catching frogs and other inhabitants of Redwing Pond. We'll start inside with a brief discussion on the vertebrates and invertebrates that inhabit the pond and learn how to identify them. Borrow our collection equipment and help us catch, observe and release these interesting critters. FREE. Please call to register.
GEOLOGY OF THE ANSONIA NATURE CENTER: Hike and Talk – Sun. Aug. 5, 1-3 pm
Ranger Amie will lead the group in a walk along Raptor Woods Trail to view outcrops of bedrock and identify major mineral groups in CT. She will also share some of her personal collection of rocks and minerals, including fossils and semi-precious stones. You can bring your collection to show others too! Wear good hiking boots and bring a water bottle and a small bag for collecting a few samples. FREE (This is not a Scout badge class). Ages 8 years old and up (children under 15 must be accompanied by an adult). Class size is limited, so please pre-register.
ROCKS IN SPACE: Perseid Meteor Showers – Sun. Aug. 12, 8 pm
Come to Ansonia's darkest location for some unusual night sky viewing with Bob Carruthers and the New Haven Astronomical Society. In addition to a chance to see the annual meteor showers, there will be a short talk about meteorites. You will get to view and touch meteorites from around the world. This night will be the peak of the showers! No need to bring anything except for warm clothing and a chair. Telescopes and binoculars are not necessary. Children must be accompanied by an adult.  FREE.
CATTAIL MAT WEAVING – Sat. Aug. 18 and Sat. Sept. 1, 10 am – 2 pm
Join Ranger Dan for a 2-part series on cattails. Week 1 we will begin to collectively work on a mat made from the cattail reeds, and week 2 we will add the finishing touches to our mat. Learn how Native Americans from the Eastern Woodlands would use these reeds! Pack a bag lunch, and be prepared for swampy conditions. Adults only. FEE: $10 per person covers both weeks. Please pre-register; class limited to 8.
VINE CROWNS AND CIRCLETS – Sun. Aug. 19, 2:30 pm
Join Ranger Jessica on a woodland adventure to harvest invasive vines and weave them into beautiful crowns! Use these new skills to craft magical toys, hoops, bracelets, necklaces and dreamcatchers, all while helping our forests. Bring your own clippers. FREE. Ages 5 years old and up (children must be accompanied by an adult).
FULL STURGEON MOON HIKE – Sat. Aug. 25, 7:30 pm
The Native American fishing tribes are given credit for the naming of this Moon, since sturgeon, a large fish of the Great Lakes and other major bodies of water, were most readily caught during this month. Join our staff on a hike in our meadows to watch as this reddish moon rises. Each child must be accompanied by an adult. Number of participants is limited so please pre-register. FEE: $3 per person. Wear appropriate footwear.
SEPTEMBER
NATURE EXPLORERS – Wednesdays, Sept. 5, 12, 19, 26; 10 am
Join Wendy for our preschool/toddler program. This 4-week session is for children ages 2–5 years old with an adult. These outdoor classes will be fun exploring and learning through play. We will learn about nature and science through activities such as hiking, exploring, singing, games, reading, and making crafts. Every class is outside!!!! TUITION: $40 per 4-week session (cash or check payable to Ansonia Nature Center).
FALL TERM JUNIOR RANGERS Thursdays, Sept. 13–Nov. 1, 3:30–5 pm
Calling all kids 11 to 14 years old who love nature! Has your child wanted to work with animals, garden, help maintain our trails, and help with special events? This is the opportunity to help the Nature Center in our 8-week after-school program. Parental permission is required. Class size is limited; this class fills up fast! FREE.
MAKE YOUR OWN NATURAL DYE – Sat. Sept. 22, 2 pm
Learn how to make your own dye with natural materials.  We'll go out on the land to find and harvest berries from pokeweed plant. Each person will go home with some dye and some wool yarn to dye! FEE: $10 per person. Adults and children 9 years and up. Please call to register.
BIRDS ON THE MOVE – Sat. Sept. 29, 8 am
Join Ranger Jess for this informative program. She will concentrate on the end-of-summer journeys taken by our "flying friends" to faraway places each year. Find out who's going and who's staying put! FREE.
***ONGOING PROGRAMS***  
Pet Loss Grief Support Session – By appointment
Losing a beloved animal can be tragic and a very emotional time for humans. There are numerous resources to turn to for the loss of a human loved one, but limited options for when we lose an animal. This FREE support session is for those who have lost an animal or have one in the process of moving on. Please call Susan Wilson at 1-802-379-4449 for an appointment.
Sunday Guided Hikes – Sundays, 1 pm
Join a Nature Center guide on Sunday afternoons for fun, exercise, and learning about our trails! See the above listings for hikes with a specific theme.
Monday Night Trail Run – Mondays, July 9, 16; Aug. 6, 13, 20, 27; Sept. 10, 17, 24; 5:30-6:30 pm
This is a call to all of the runners who want something that is out of the ordinary! Ranger Dan will lead you through our 156-acre network of trails, while you burn off the weekend's extra calories. We guarantee that this FREE program is the best way to start off your week. Please register and wear appropriate footwear.
Family Organic Gardening Program – Tuesdays, July 3, 10, 17, 24, 31; Aug. 7, 14, 21, 28; Sept. 4, 11, 18, 25; 3:30 – 5:00 pm
ANC will be continuing family-friendly activities in our organic garden. Learn about growing a variety of fruits and vegetables. Dress appropriately; keep in mind you will get water and soil on your clothing. FREE, with the potential to take home fresh produce!
Karate Club – Tuesdays, 5–5:45 pm
This summer and afterschool program at the Nature Center is for children 6-12 years old (Karate Kids), and 3-5 years old (Little Dragons). Students will engage in martial arts techniques and activities while learning skills such as discipline, focus, self-control, and confidence. They can earn higher-ranking belts as their participation continues. Summer classes will be held outside. TUITION per 5-week session: $40 (cash or check payable to AMAA), which includes a Karate Club T-shirt and white belt. For more information call Chief Instructor Adam Rylski at 203-671-6903 or Theresa 203-506-3816, or the Ansonia Nature Center at 203-736-1053.
Fiber Arts Group – Tuesdays starting Sept. 4, 6 pm
Get together with others to work on your fiber arts projects! Bring any kind of fiber work—knitting, felting, crocheting, etc. A great way to dedicate time to your handiwork and socialize too. FREE.
Yoga for a Healthy Mind and Body – Thursdays starting Sept. 6, 6:30 pm
Hatha Yoga instructor and practitioner Pam Mellitz will lead us into a healthier lifestyle through stretching, breath control and gentle exercise. The 90-minute classes require a mat or thick towel; dress for easy movement. Class is limited to 12 students. $7 per class. Please call Pam to register at 203-888-4124.
Creature Features – Saturdays, 12 noon
Come to meet our furry, scaly, and feathery animal ambassadors. You'll have the chance to touch and hold them in this FREE family program for all ages.
********************************************************
***THINGS TO COME  (Fall 2018)***
Autumn Fest  • Wreath Workshop • Fall Foliage Hike • Nature and Play for Children with Autism