THE ANSONIA NATURE CENTER IS CLOSED TO THE PUBLIC UNTIL FURTHER NOTICE DUE TO COVID-19.
 THE EXTERIOR GROUNDS ARE OPEN!

****************************************************
****************
DEDICATED TO CREATING A LIFELONG CONNECTION TO NATURE
Our mission is to foster environmental stewardship that connects our communities to the natural world of the Lower Naugatuck River Valley, and balance the demand for recreation with the need for conservation.
*
As always, Admission to our Nature Center is always FREE!
*
***************************************
Nature Trivia Night-
Beginning August 6th, join us virtually every Thursday at 7pm for Nature Trivia Night!
This is a FUN FAMILY-FAMILY FRIENDLY PROGRAM will test your wits with questions on a variety of topics, including animals, plants, and natural history. All skill levels welcome!
To register for this online event, call 203-736-1053, or email us at ansnaturectr@ansoniact.org with 'nature trivia' in the subject line.
Fiber Arts Group – Tuesdays, 6 pm via zoom

Get together with others to work on your fiber arts projects! Bring any kind of fiber work—knitting, felting, crocheting, etc. A great way to dedicate time to your handiwork and socialize too. 
FREE. If you are interested in Fiber Arts please send Dawn Sotir an email at dawnsotir@gmail.com
---
Free Fun Activities every Weekend?
FREE Creature Feature every Saturday at Noon! Our Rangers will share fun facts about our Animal Ambassadors while your children get to touch and hold the animals!
FREE Guided Hike every Sunday at 1 pm! Join one of our Rangers on a hike around our 150 acre property! See brilliant song birds, croaking frogs, sun-bathing turtles, and more on this epic wilderness adventure!
~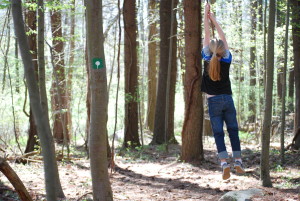 Connecting Children with Nature
Nature-oriented classes are provided to school-age children on weekdays. The staff makes learning fun by providing lively, age-appropriate topics tied to the Connecticut Core Science Curriculum Framework and NGSS.
Nature Camp runs during ALL school breaks: spring, summer, AND winter!
We also offer scout programs, call to talk to an instructor!
We offer evening and weekend programs for adults and their families.
Check our seasonal Calendar of Events for upcoming activities
 If you'd like to receive a free copy in the mail, just provide us with your name and address by calling 203-736-1053.
~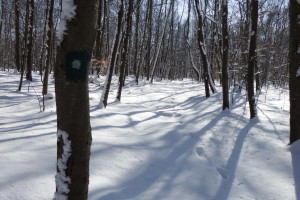 HIKING TRAILS
Our land is a typical Connecticut landscape that encompasses 150 acres of wooded hills, grassy fields, streams,  and  a two acre pond of which provides sanctuary to many species of New England flora & fauna.
Join us for a guided hike every Sunday at 1:00.  Click here for a copy of our TRAIL MAP
~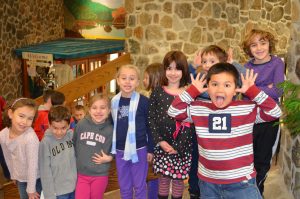 HAVE YOUR BIRTHDAY PARTY HERE!
Each birthday party includes an up-close-and-personal encounter with one of our resident Animal Ambassadors!
Birthday Party Package Includes:
* Nature Center admission for up to 40 guests, up to 20 being children.
* Animal presentation with the animal of your choice!
* An up-close and personal meeting with one of our Nature Center's Animal Ambassadors!
* A craft, hike, or other animal themed age-appropriate activity!
* A FANCI Birthday Party Presenter to help you with set-up, clean-up and to help run your party
* A section of the Nature Center building for 2 hours
You can find out more about our Birthday Parties HERE!
~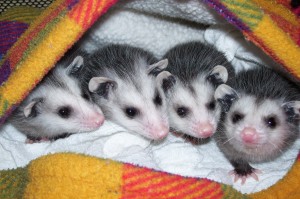 Do You Have Injured or Abandoned Wildlife?
The Ansonia Nature Center does not care for injured or abandoned wildlife, but you can click on the "Wildlife Info" tab for more information about helping distressed wildlife.
The Connecticut DEEP Wildlife Division and Connecticut's Wildlife Rehabilitators Association can help!
CWRA is available to answer all of your questions about wildlife! Find more on their website here: https://sites.google.com/site/connecticutwildliferescue/
Visit Connecticut's DEEP's Website to find a wildlife rehabilitator near you: http://www.ct.gov/deep/cwp/view.asp?a=2723&q=326228&deepNav_GID=1655
~
How Can I Help The Ansonia Nature Center?
There are many ways!
Donate: http://ansonianaturecenter.org/support/donation/
Purchase Something From Our Wish List: http://ansonianaturecenter.org/wish-list/
Become A Volunteer: http://ansonianaturecenter.org/become-a-volunteer/
Become An Intern: http://ansonianaturecenter.org/become-an-intern/
Become A Member: http://ansonianaturecenter.org/support/fanci/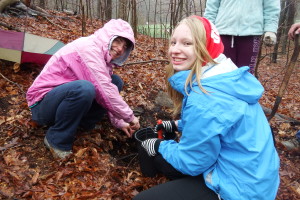 Friends of the Ansonia Nature Center, Inc. (FANCI) MEMBERSHIP
Please fill out a Friends Membership Form  and send it with your tax deductible check, made out to the Friends of the Ansonia Nature Center, Inc. (FANCI) to 10 Deerfield Lane, Ansonia, CT 06401.   Thank you!
~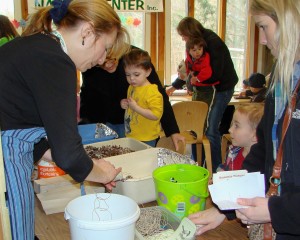 VOLUNTEER
We are looking for volunteers for a variety of different projects and programs. Please call us to find out how you can help.
Download a copy of our Volunteer Form