THE ANSONIA NATURE CENTER BUILDING IS CLOSED TO THE PUBLIC UNTIL FURTHER NOTICE DUE TO COVID-19. 
Because of concerns about Covid-19, the Ansonia Nature Center is running outdoor or virtual programming only.  We ask that participants in outdoor programs practice social distancing and wear masks.
The Nature Center building is closed and all indoor programs are cancelled until further notice.
***********************************************
 OUR EXTERIOR GROUNDS ARE OPEN! 

****************************************************
The park is open sunrise to sunset 7 days a week
Playground and Trails are open. See below for trail map
Pavilion rentals are available to be scheduled for small group gatherings. Call us for more information
Outdoor restrooms are open for the public
Please maintain at least 6 ft. physical distancing
Feeling sick? Please stay home
Wash or sanitize hands frequently 
****************
*
PLEASE CALL OR EMAIL US WITH ANY QUESTIONS OR CONCERNS
phone: 203 736-1053, email: ansnaturectr@ansoniact.org
*
DEDICATED TO CREATING A LIFELONG CONNECTION TO NATURE
Our mission is to foster environmental stewardship that connects our communities to the natural world of the Lower Naugatuck River Valley, and balance the demand for recreation with the need for conservation.
***************************************
************
*****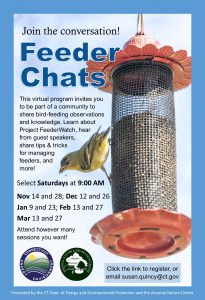 FEEDER CHATS-
Virtual program in collaboration with the Kellogg Environmental Center and Ansonia Nature Center. Two programs a month on Saturdays thru March 27.
To register click on link below
https://coeearegistration.wufoo.com/forms/zhc37vv11qz4ca/
****
*****************
************************
***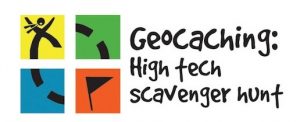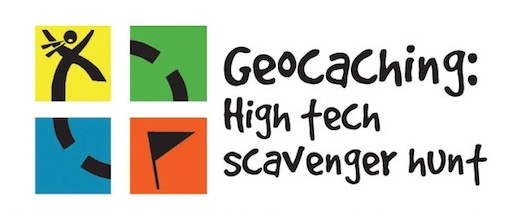 GEOCACHING AT THE ANSONIA NATURE CENTER
WHAT IS GEOCACHING?
Are you looking for a fun way to exercise the body and mind?
Try Geocaching.
It is a real-world, outdoor treasure hunting game using GPS-enabled devices.
Participants navigate to a specific set of GPS coordinates and then attempt to find the geocache (container) hidden at that location. … then.
Sign the logbook, exchange one item for another and return the geocache to its original location.
YES! !! WE HAVE GEOCACHES LOCATED AT THE NATURE CENTER
Go to geocaching.com to choose one of millions of geocaches hidden worldwide.
Use your smartphone app or GPS to navigate to the cache.
Keep an eye out so you can spy the cache's camouflaged hiding place.
Once you find the cache, sign the logbook, exchange one item and put everything back like you found it.
Follow the most basic rule of geocaching: Leave No Trace during your hunt.
HAVE FUN!
 ****
Fiber Arts Group – Tuesdays, 6 pm via zoom
Get together with others to work on your fiber arts projects! Bring any kind of fiber work—knitting, felting, crocheting, etc. A great way to dedicate time to your handiwork and socialize too. FREE. If you are interested in Fiber Arts please send Dawn Sotir an email at dawnsotir@gmail.com
*****
Winter Calendar of Events—2021
January
How Do Animals survive the winter?  Virtual Lesson:   Saturday, January 16, 12:00 p.m.
During this Facebook Live lesson your children will learn what animals, as living organisms, do to survive through the cold and winter conditions.  They will learn about how animals adapt to frigid temperatures and are able to conserve body heat.  Different types of animals adjust in different ways, using their protective coverings, such as feathers, fur, and even layers of fat, which help insulate them against the cold environment.  Join Ranger Dawn and do an experiment called "The Blubber Glove".
Blubber Glove materials:
2 large zip lock bags
Crisco
Paper towels
A bowl of ice water
Squirrel Appreciation Day – Thursday, January 21 at 7:00 pm – Zoom
A hundred and seventy years ago, squirrels were such a rare sight in cities that when someone's pet squirrel escaped into downtown New York, hundreds of people stopped to gawk at it. Today, these adaptive, acrobatic rodents are so common we often forget to appreciate the critical role they play in our environment; without them, we wouldn't see the forests we do today! This year, celebrate squirrels by learning more fun squirrel facts with Ranger Evelyn, and play a virtual squirrel board game. Can you collect the most acorns before a predator arrives?
Age 7+. Registration is required for this virtual event.
Virtual Tour of the New Honey Bees Exhibit – Saturday, January 30, 12 p.m.
Join Ranger Amie for a video presentation about our new honeybee exhibit.  During this virtual walk-through learn how bees pollinate and their importance to our environment.  The beautiful new art panels painted by Ranger Amie provide a visual representations of pollination and the life cycle of bees.  Watch our observation hive live footage to see real examples of how bees work and communicate.  Last but not least enjoy a view of the new Upcycled Mobiles created by artist David Sepulveda.  Test your knowledge with a quick quiz.
**
February
Groundhog Day – Tuesday, Feb 2, 1:00 p.m. – Facebook
The U.S. has a long tradition of celebrating Groundhog Day, that shadow-spotting rodent who predicts the weather. An even older tradition, seen around the world, is using shadows to tell stories. This year, Ansonia Nature Center is proud to present a shadow puppet show adaptation of 'Go to Sleep, Little Groundhog.' A Facebook watch party will stream the show at 1:00, with a live Q&A to follow. No registration is necessary for this event, just visit our Facebook page at the designated time! In addition, the puppet show will continue to be available to view after the Watch Party.
Eco Art Valentine Virtual Workshop – Saturday, Feb. 13, 12:00 p.m.
Create gifts for your loved ones out of recycled materials.  Join Ranger Dawn for a Facebook Live Virtual Workshop to create some sweet surprises like owl candy holders and fox valentines.  This will be a fun afternoon to do with your family.  Items for the crafts can be collected from around your home.
Materials List:
Toilet paper tubes
Popsicle sticks
Construction paper (red, yellow and black)
Scissors
Glue
Candy to fill your tubes
Let's Draw Animals!  Facebook Live – Saturday, February 27, 12:00 p.m.
Live drawing class from the Nature Center with artist and ranger, Amie.  She will demonstrate how to draw a rabbit and a guinea pig, using our own live "models" Anson, Cocoa, and Abbey.  While drawing you'll learn some interesting facts about these animals, so it's a bit of science as well as art.  Participants should have the following supplies:
 *****
March
Get Ready for Bluebirds – Sunday, March 14, 2:00 p.m.
Spring is on its way, and bluebirds are getting ready to nest. Join Ranger Evelyn for this virtual program and learn about bluebird life history, how to make your yard bluebird-friendly, and everything you need to know about setting up and taking care of your own nest boxes. Registration is required.
Bluebird Walk – Saturday, March 20, 1:00 p.m.
Here at Ansonia Nature Center, we have several bluebird nest boxes on our property. Join Ranger Evelyn on this nature walk, to clean out the boxes and get them ready for the new season. This is an in-person, socially-distant event, so space is very limited.
Guided Walk:  Ranger Ramble – Sunday, March 21, 1:00 p.m.
Ramble through 2 to 3 habitats on the Nature Center property and learn about animal signs, how to identify plants and the uses of wild plants at the beginning of spring.  This will be a slow observation walk, covering distance is not the goal. Wear proper footgear and clothes for the early spring conditions.  Class size limited to 10 so please call in advance to register.  FREE
**************
For in person classes
All participants must pre-register and adhere to the new rules list.
Now and always, the health and safety of our staff, volunteers, and visitors is a priority. We are excited to have reopened our outdoor facilities and to provide outdoor programs. Here is how we are working to keep everyone safe.
For Your Class:
Per State of Connecticut guidelines, face masks must be worn by class participants.
Physical distancing of 6ft should be practiced between groups at all times.
Spacing will be indicated in the outdoor teaching spaces.
Hand sanitizer is available for your use
No passing or sharing items between groups
Outdoor restrooms are open for the public.
Our employees are screened daily.
All participants must fill out a Waiver of Liability before attending class
Health Pre-Screening must be filled out the day before class.
No walk-ins will be allowed to participate.
OUR BUILDING IS CLOSED TO THE PUBLIC
Fiber Arts Group – Tuesdays, 6 pm via zoom

Get together with others to work on your fiber arts projects! Bring any kind of fiber work—knitting, felting, crocheting, etc. A great way to dedicate time to your handiwork and socialize too. 
FREE. If you are interested in Fiber Arts please send Dawn Sotir an email at dawnsotir@gmail.com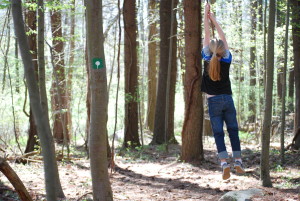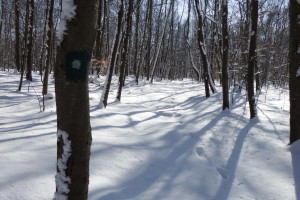 OUR HIKING TRAILS ARE OPEN TO THE PUBLIC
Our land is a typical Connecticut landscape that encompasses 150 acres of wooded hills, grassy fields, streams,  and  a two acre pond of which provides sanctuary to many species of New England flora & fauna.
Join us for a guided hike every Sunday at 1:00.  Click here for a copy of our TRAIL MAP
~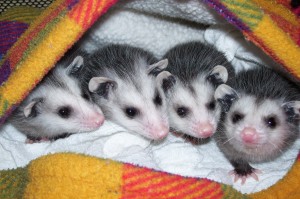 Do You Have Injured or Abandoned Wildlife?
The Ansonia Nature Center does not care for injured or abandoned wildlife, but you can click on the "Wildlife Info" tab for more information about helping distressed wildlife.
The Connecticut DEEP Wildlife Division and Connecticut's Wildlife Rehabilitators Association can help!
CWRA is available to answer all of your questions about wildlife! Find more on their website here: https://sites.google.com/site/connecticutwildliferescue/
Visit Connecticut's DEEP's Website to find a wildlife rehabilitator near you: http://www.ct.gov/deep/cwp/view.asp?a=2723&q=326228&deepNav_GID=1655