DEDICATED TO CREATING A LIFELONG CONNECTION TO NATURE
The mission of the Ansonia Nature & Recreation Center is to foster an environmental stewardship that connects our communities to the natural world of the Lower Naugatuck River Valley, and balance the demand for recreation with the need for conservation.
We're Making Renovations on the Playground!
The playground is in "Phase 2." When it is completed, it will be ADA compliant.
During this process, the playground will be closed.
Until the parking lot is completed , there will be limited parking in front of the Nature Center.

Please be patient while the playground is closed

for renovations.
– In the Red Wing Pond House Parking Lot– just a short walk away from the Nature Center!
– "Nose-In" Parking between the trees along the gravel driveway that leads to the Pavilion. Turn around spot located in front of Pavilion.
Have any questions? Feel free to call us! 203-736-1053 🙂
Join us this August for Summer Nature Days!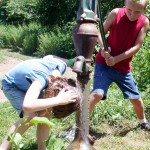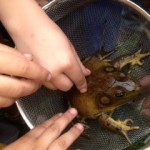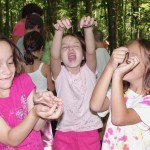 Mon. July 31-Fri Aug. 4th
Mon. Aug. 7-Fri Aug. 11th FULL
Mon. Aug. 14-Fri Aug. 18th
9:30 am-3 pm
Choose one or more weeks!
On these adventure-filled days, we will visit the vernal pools, build debris shelters, make crafts, go tracking, eat wild foods, and play TONS of games, all while in the forest!
For children from 5 to 11 years old who love the outdoors and wildlife, these popular classes will not only be educational but also a chance to explore the 156 acres the park offers. We will explore the park's wetlands, fields, and woodlands. A great choice for a late summer experience!
Includes breakfast AND lunch too!
TUITION: $150 priority students (includes Ansonia residents and current family-level FANCI members); $175 all others
These classes fill up fast, so sign up today!
Click here to download the Nature Days Registration Form!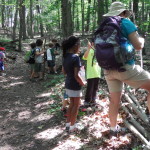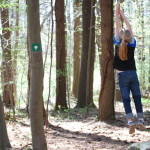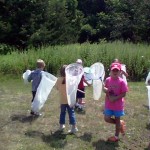 Connecting Children with Nature
Nature-oriented classes are provided to school-age children on weekdays. The staff makes learning fun by providing lively, age-appropriate topics tied to the Connecticut Core Science Curriculum Framework and NGSS.
Nature Camp runs during ALL school breaks: spring, summer, AND winter!
We also offer scout programs, call to talk to an instructor!
We offer evening and weekend programs for adults and their families.
Check our seasonal Calendar of Events for upcoming activities
 If you'd like to receive a free copy in the mail, just provide us with your name and address by calling 203-736-1053.
Hiking Trails
Our land is a typical Connecticut landscape that encompasses 150 acres of wooded hills, grassy fields, streams,  and  a two acre pond of which provides sanctuary to many species of New England flora & fauna.
Join us for a guided hike every Sunday at 1:00.  Click here for a copy of our TRAIL MAP
Visit us on Saturdays at noon for our popular Creature Feature program with our resident animals or every Sunday for a Guided Hike at 1:00.
FRIENDS MEMBERSHIP/DONATION FORM
Please fill out a Friends Membership/Donation form  and send it with your tax deductible check made out to the Friends of the Ansonia Nature Center, Inc. (FANCI) to 10 Deerfield Lane, Ansonia, CT 06401.   Thank you!
Our wildlife themed birthday parties are run and staffed by FANCI. FANCI members that work a birthday party are given a stipend for their time. We are constantly looking for people with natural history knowledge and experience handling animals to run our birthday parties. If you are interested in working a birthday party, please contact us. For more information about our birthday parties, go here.
VOLUNTEER
We are looking for volunteers for a variety of different projects and programs. Please call us to find out how you can help.
Download a copy of our Volunteer Form