Nature Center Holiday Hours:
December 23rd: 9am-12pm
December 24th: CLOSED
December 25th: CLOSED
December 30th: 9am-12pm
December 31st: 9am-12pm
January 1st: Building CLOSED; Hike @10am
WINTER NATURE DAYS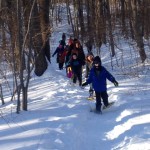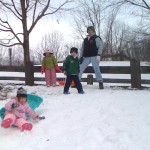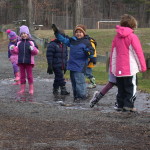 December 2016
Tuesday Dec 27- Thursday Dec. 29 10:00 am-2pm

For children from 5 to 11 years old who love the outdoors and wildlife, these popular classes will not only be educational but also a chance to explore the 156 acres the park offers. We will visit a variety of habitats such as the park's wetlands, fields, and woodlands. Registration deadline is December 16
TUITION: 3 days, $105 
Click HERE to download the Nature Days Registration Form!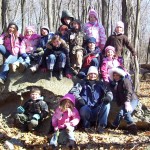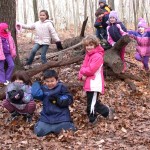 What We Do
DEDICATED TO CREATING A LIFELONG CONNECTION TO NATURE
The mission of the Ansonia Nature and Recreation Center is to foster an ethic of environmental stewardship that will connect our communities to the natural world of the Lower Naugatuck River Valley, and balance the demand for recreation with the need for conservation.
Once an active small dairy farm, the park is laced with over 2 miles of nature trails in typical southern New England habitats.  The unique visitor center, also know as the Schumacher Pavilion, was constructed in 1977 from Connecticut stone and glass. Entrance to the vistor center is FREE!
Nature-oriented classes are provided to school-age children on weekdays. The staff makes learning fun by providing lively, age-appropriate topics tied to the Connecticut Core Science Curriculum Framework and NGSS.
Nature Camp runs during ALL school breaks: spring, summer, AND winter!
We also offer scout programs, call to talk to an instructor!
We offer evening and weekend programs for adults and their families.
Check our seasonal Calendar of Events for upcoming activities
 If you'd like to receive a free copy in the mail, just provide us with your name and address by calling 203-736-1053.
Hiking Trails
Our land is a typical Connecticut landscape that encompasses 150 acres of wooded hills, grassy fields, streams,  and  a two acre pond of which provides sanctuary to many species of New England flora & fauna.
Join us for a guided hike every Sunday at 1:00.  Click here for a copy of our TRAIL MAP
Connecting Children with Nature
Visit us on Saturdays at noon for our popular free Creature Feature program with our resident animals or every Sunday for a Guided Hike at 1:00.
Location
10 Deerfield Lane, Ansonia, CT 06401
Route 243, coming from New Haven on Fountain Street to Ansonia Road:  After Warsaw Park, turn right onto Benz Street to 2nd stop.  Turn right and quick left back onto Benz Street and take next right onto Milan Street to Deerfield Lane which will take you to the Ansonia Nature Center.
Route 34, coming from New Haven:  Follow Rt. 34 to Orange, Turn right onto Racebrook Road (Rt. 114).  Turn left at Rt. 243 (Ansonia Road) and follow directions above.
Route 8 North, coming from Bridgeport:  Take Exit 16 (Pershing Dr.)  At 2nd traffic light turn right onto Division St.  Go over Naugatuck River to traffic light intersection (Shell gas station left) Go straight onto Elm St.  Stay right of the small green (in front of Ansonia Police Dept.) onto Platt, then follow uphill to Prindle Ave.  (Do Not bear right onto Derby section of Prindle Ave.) At stop sign continue straight on Prindle Ave. (past Emmet O'Brien Tech. School on left) follow to next stop. (church on left) Take a right onto Benz St. and follow to 2nd stop.  Turn left onto Milan St.  to Deerfield Ln.  which both dead end in the park.
Route 8 South, coming from Waterbury:  Take exit 17 (Seymour Ave.).  Take the left fork of the exit, go straight through the light onto Atwater Ave.  At next traffic light turn right onto Division St.  See above directions to continue.
FRIENDS MEMBERSHIP/DONATION FORM
Please fill out a Friends Membership/Donation form  and send it with your tax deductible check made out to the Friends of the Ansonia Nature Center, Inc. (FANCI) to 10 Deerfield Lane, Ansonia, CT 06401.   Thank you!
VOLUNTEER
We are looking for volunteers for a variety of different projects and programs. Please call us to find out how you can help. Download a copy of our Volunteer Form